Elegant playing characterises a deeply researched and challenging programme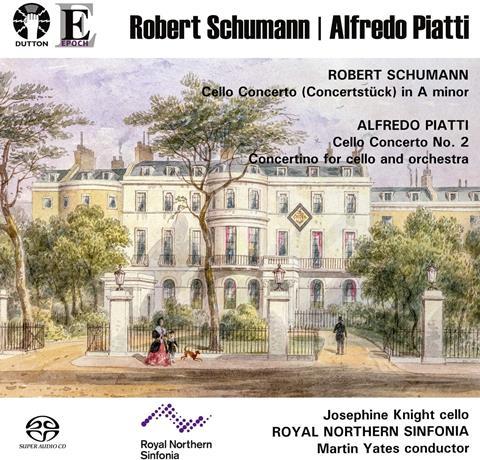 The Strad Issue: December 2020
Description: Elegant playing characterises a deeply researched and challenging programme
Musicians: Josephine Knight (cello) Royal Northern Sinfonia/Martin Yates
Works: Schumann: Cello Concerto/Concertstücke. Piatti: Cello Concerto no.2; Concertino for Cello and Orchestra
Catalogue number: DUTTON CDLX 7371
This recording offers listeners the chance to hear Schumann's Cello Concerto, or Concertstück as it was originally conceived (see the article in the September issue for more details). The performance is based on the autograph manuscript of the work which is housed at Kraków's Jagiellonian Library and available for consultation online, thanks to IMSLP (bit.ly/3dhpfJu).
So what are the great differences between this version and the one with which we are all familiar? Certainly, you notice a bravura ascending scalic figure at the end that adds to the concluding arpeggio passagework, and there are some odd notes here and there and phrase structures that are different. But none of these features really alters the overall character of the piece. Nor do I think the nomenclature of the title makes a scrap of difference to the reading of the work. 'You say Concerto and I say Concertstück', as the song might go. In other words, the claims for great revelations made by Josephine Knight in her detailed booklet notes are somewhat over-egged. Nonetheless, she gives a winningly elegant performance of the work, offering a relatively classically oriented approach to the score which eschews indulgence. The Royal Northern Sinfonia under Martin Yates is laudably light-footed in much of the tutti passages where the orchestration can sound thick and heavy. Here the transparency of texture is well served by the very clear recording.
Knight is the Piatti Professor at the Royal Academy of Music and has elected to showcase her illustrious predecessor, whose cellistic prowess is well documented in two works receiving world premiere recordings. Piatti's orchestration is deft, owing much to Mendelssohn, and the Concertino's Allegro appassionato offers some charming melodic invention. By the concluding Allegro, however, Piatti's creative inspiration has declined. Equally, the Second Concerto sounds rather like a suitcase full of beautiful garments with nowhere to go. Technical passages abound in endless and somewhat predictable sequences. Knight produces a valiant reading of these gladiatorial challenges, but even her capable hands cannot rescue the work.
JOANNE TALBOT