Cellist provides an original and spirited voice in three impressive performances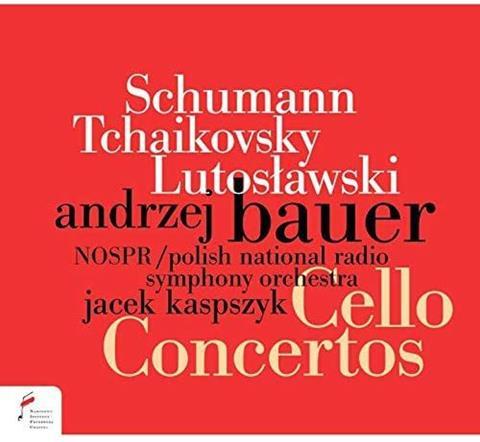 The Strad Issue: April 2021
Description: Cellist provides an original and spirited voice in three impressive performances
Musicians: Andrzej Bauer (cello) Polish National RSO/Jacek Kaspszyk
Works: Schumann: Cello Concerto. Lutosławski: Cello Concerto. Tchaikovsky: Rococo Variations
Catalogue number: FRYDERYK CHOPIN INSTITUTE NIFCCD072
Forget Rostropovich. These performances operate on another planet from the Russian bear-hug approach – which anyway tended to suffocate the sweet nothings of Schumann's intimate dialogue, and inflate the delicate neo-Classicism of Tchaikovsky's score. You might even wonder if Andrzej Bauer has forgotten his first entry to the Rococo Variations – but the engineering fits his finely judged reticence, which could initially be confused with diffidence.
Through the gathering momentum of both Romantic scores it becomes clear that his conception of their rhetoric is more intimate and less heroic than we're used to even in these period-conscious times. Equally impressive, however, is the sense that Bauer is too good and too experienced a musician to fall into feyness or mannerism. His bowing is uncommonly free and relaxed in the Tchaikovsky, lending its slow variation and cadenza a lightness of spirit that harmonises with the legerdemain of the finale to relieve the piece of anachronistic strain and stress.
Surely the Lutosławski Concerto is another matter – dedicated to Rostropovich, after all, and dramatising in the most vivid and painful terms a story of fight and flight, the one against the many. Bauer, too, discussed and played the piece with the composer, and his second recording (much more sharply characterised and accompanied than the first, on Naxos) takes its cue from Lutosławski's French connections – his love of its poetry and literature, his fastidiously Ravelian orchestration – to give the solo part an aquiline and at times aristocratic profile, as though conceived rather with Tortelier in mind. The production team have recessed the more violent orchestral outbursts while keeping solo woodwind to the fore; if they had split the Tchaikovsky and Lutosławski with track points, I would award full marks.
PETER QUANTRILL