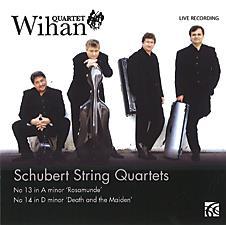 THE STRAD RECOMMENDS
The Strad Issue: January 2012
Description: Compelling coupling of two of Schubert's best-known quartets
Musicians: Wihan Quartet
Composer: Schubert
Schubert remains one of the most elusive of pre-Romantic composers, not least in his mature string quartets. Emphasise the Classicist side of his nature and you risk underplaying the music's expressive poignancy, but opt for a furrowed-brow, Beethovenian thrust and you lose the profound sense of vulnerability that lies at the core of his creative psyche. By skilfully steering an interpretative middle course, the Wihan Quartet achieves the tantalising expressive ambivalence that is the nirvana of all Schubert interpretation.
In the undulating textures of the 'Rosamunde' Quartet we find intense sadness without self-pity, beauty without beautification, and a compelling dramatic narrative free from melodrama. Towards the end of the opening movement's development section, Schubert's musical shafts of terror are experienced as a psychological assault.
Turn to the famous opening of the 'Death and the Maiden' and we encounter an exquisitely subtle world of semantic suggestibility that is deeply unsettling, while the lyrical second subject exchanges Viennese coffee-house nostalgia for lungfuls of bracing Dvo?ákian fresh air. This fine Czech ensemble even sidesteps the finale's rhythmic moto perpetuo bear-trap by keeping the music dancing on its collective toes. The live recording, made in a Prague convent during the summer of 2011, boasts first-rate, atmospheric sound and an audience so quiet you could hear a pin drop.



JULIAN HAYLOCK