This year's contest attracted contestants from 24 different countries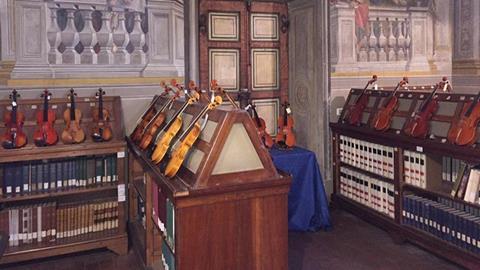 The Santa Cecilia Conservatory in Rome and Associazione Nazionale Liuteria Artistica Italiana (ANLAI) have announced the results of the 2016 Santa Cecilia International Violin Making Competition.
In the contest's 50th year, makers from 24 countries submitted 101 instruments for judging by two international juries chaired by president Florian Leonhard. On the luthier panel was Carlo Vettori (Florence), Luca Primon (Trento), Ikiko Suzuki (Japan) and Quan Zhen (China), while the musician panel featured Felix Ayo, Massimo de Bonfils, Massimo Paris, Maurizio Massarelli and Massimo Giorgi.
In the Modern Violin category, Chinese maker Yu Huidong, winner of the 2016 China International Violin and Bow Making Competition, took home the gold medal , while both the Modern Viola and Modern Cello categories were won by Marcello Villa from Cremona. Swedish maker Jens G. Johansson won the gold medal in the Antiqued Violin category, and Roberto Muzio from Milan took home the gold medal for Antiqued Bass.
Silver medals were awarded to Valery Prilipco from Russia in the Modern Violin category, to French maker David Leonard Wiedmer in the Antiqued Violin category, and to South Korean Lee Seung Jee in the Antiqued Viola category. Milcev Pamen from Bulgaria and Sergio Scaramelli from Ferrara won second prize in the Cello and Double Bass categories.
This year a contest for young amateurs 'Premio CittÁ di Roma', ran parallel to the professional competition attracting talent from China, Korea, Japan, Bulgaria and Italy.