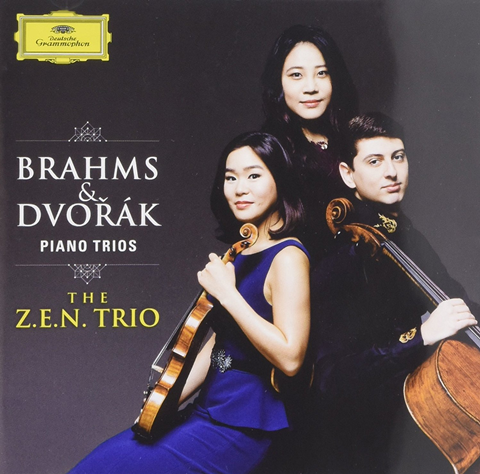 The Strad Issue: April 2018
Description: Three young soloists in an exploration of Zen and the art of chamber trios
Musicians: Z.E.N. Trio
Works: BRAHMS Piano Trio no.1 in B major op.8; Hungarian Dance no.6 in D flat major. DVOŘÁK Piano Trio no.4 in E minor op.90 'Dumky'
Catalogue Number: DEUTSCHE GRAMMOPHON 481 6292
'Z.E.N.' spells out the initials of the three former BBC New Generation Artists who make up this trio, but also represents their chamber music philosophy of 'foregoing of the self for total togetherness'. That's a more complicated proposition in Brahms's First Piano Trio than it is in Dvořák's last. Brahms's big-boned piano can easily blot out the strings or force them into aggressive compensation. Pianist Zhang Zuo is just about on the right side of the line here, but only just.
Of more concern is Esther Yoo's fixed vibrato, which might speak of Brahmsian angst but in fact renders some of his strenuous passages a little too uptight. The accuracy and security of her playing surely mean she could afford to loosen up; cellist Narek Hakhnazaryan's songfulness in the Adagio shows that there's another way.
By Brahms's finale there is a confident handling of his temperament, the temperament Dvořák would move towards following folk-inspired works like the 'Dumky' Trio. There's little danger of the trio's performance drifting meditatively away from its fun and games. More exceptional, however, is their tender handling of the piece's introspective melancholy. That makes for a performance of huge and borderline revisionist sensitivity, captured in full, clear sound, which flips this issue into the 'recommendable' category.
ANDREW MELLOR