Intimate, chamber-style performances capture the music's gentle charm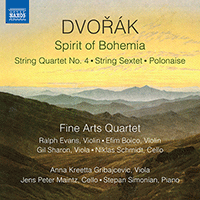 The Strad Issue: June 2021
Description: Intimate, chamber-style performances capture the music's gentle charm
Musicians: Anna Kreetta Gribajcevic (viola) Jens Peter Maintz (cello) Stepan Simonian (piano) Fine Arts Quartet
Works: Dvořák: String Quartet no.4 in E minor; String Sextet in A major op.48; Polonaise in A major
Catalogue number: NAXOS 8.574205
Probably only too well aware of the music's Wagnerian leanings (especially unmistakable in the opening movement), Dvořák never intended his 1870 E minor Quartet to see the light of day. Listening again to this expertly written but stylistically unsettled opus, recycled in part in the op.40 Nocturne and op.77 Sextet, one can scarcely credit that just five years later the Serenade for Strings displayed his unmistakable creative imprimatur as though it had been there from the start.
The Fine Arts Quartet successfully avoids the interpretative pitfall of special pleading and musical over-inflation, suggesting instead a sense of where Dvořák might have travelled if he had continued along an essentially Germanic creative path (at times one can almost sense the young Schoenberg waiting in the wings).
The 1878 String Sextet, in which the Fine Arts players are joined by violist Anna Kreetta Gribajcevic and cellist Jens Peter Maintz, is played as an enhanced quartet rather than indulging in Brahmsian richness, which ideally suits the music's gentle charm, especially in the inspired theme-and-variations finale. For the 1879 Polonaise, the quartet's cellist Niklas Schmidt is joined by pianist Stepan Simonian in a delightful reading which, as with its companion performances, prefers drawing-room intimacy to explosive concert-hall rhetoric.
JULIAN HAYLOCK