A remarkable concept album by a unique and imaginative solo performer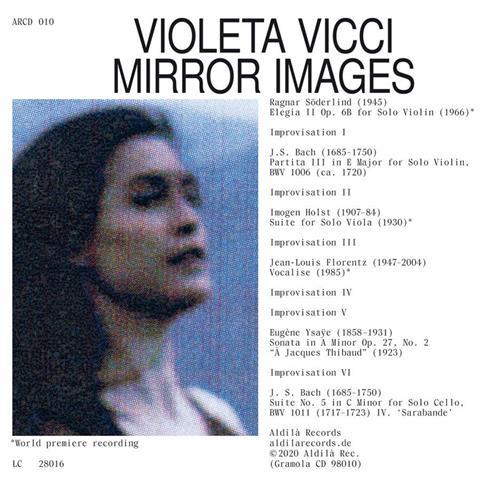 The Strad Issue: June 2021
Description: A remarkable concept album by a unique and imaginative solo performer
Musicians: Violeta Vicci (violin, viola and voice)
Works: Söderlind: Elegy no.2 op.68. Bach: Partita no.3 n E major BWV1006; Cello Suite no.5 in C minor (arr. Vicci). Imogen Holst: Suite for Solo Viola. Florentz: Vocalise. Ysaÿe: Sonata in A minor op.27 no.2
Catalogue number: ALDILÀ ARCD010 / GRAMOLA CD98010
Concepts are for artists rather than audiences, and Violeta Vicci thanks a lot of people in the acknowledgements, but her second album, recorded back in 2018, leaves the impression of a complete musician and an original mind. Of Catalan and Swiss descent, now resident in London, she moves from an angular violin Elegy (1966) by the Norwegian Ragnar Söderlind to a plain-spoken account of Bach's E major Partita via the first of six improvisations linking this unique mixed salad of composers.
The Bach would sound under-powered in other contexts, but the studio engineering strikingly anticipates a lockdown aesthetic of homespun simplicity and one-to-one communication. There is no shortage of albums dedicated to 'unjustly' neglected English music for strings, yet until now, not one has featured the concise four-movement Suite for Solo Viola written by Imogen Holst in 1930: offbeat, Bartókian, completely unpredictable and closing in style with a gigue featuring some nifty pizzicato/arco shifts from Vicci.
I won't spoil the vocal surprise, but Vicci sings as well as she plays. Her Ysaÿe Second Sonata is projected as a space of melancholy introspection, effectively using pure tone in the 'Danse des ombres' to echo the soulful intimacy of her Bach. She returns to the viola for a final, remarkably deconstructed account of the Sarabande from the Fifth Cello Suite, outlining its proto-modernist contours with the sparest, simplest phrasing. On this evidence, Vicci is an artist of ideas with all the gifts to fulfil them.
PETER QUANTRILL