Schumann meets a French composer in an imaginative cello pairing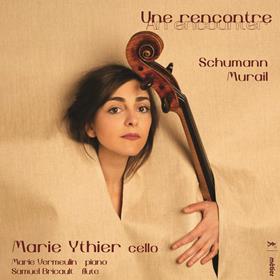 The Strad Issue: October 2019
Description: Schumann meets a French composer in an imaginative cello pairing
Musicians: Marie Ythier (cello) Marie Vermeulin (piano) Samuel Bricault (flute)
Works: SCHUMANN Fünf Stücke im Volkston op.102; Fantasiestücke op.73; Kinderszenen (arr. Murail) MURAIL Attracteurs étranges; Une letter de Vincent; C'est un jardin secret
Catalogue Number: METIER MSV28590
It was eclectic French cellist Marie Ythier who first had the idea of a disc pairing cello music by Schumann with that of eminent French composer Tristan Murail. Murail, after initial surprise at the idea, embraced the concept and reinterpreted the final work, Kinderszenen, for it. Ythier, a former pupil of Anne Gastinel, opens the disc with a most engaging Fünf Stücke. Her fractional holding back in the first piece adds just the desired touch of humour and the Langsam movement is both relaxed and relaxing in its dreaminess. Vermeulin's rippling pianism adds poetry to the Fantasiestücke, offsetting an occasional heavy-handedness in the cello phrasing.
It was the poetry of Murail's music that inspired Ythier to link it with Schumann's and she brings out this quality especially well in the elegant lines of Attracteurs étranges, arresting in its virtuosity and use of the whole gamut of modern techniques including microtonal tuning. The novel sonorities Murail creates are particularly well showcased by the disc's transparent and slightly resonant sound.
These techniques come into their own in Murail's version of Kinderszenen, taking flute, cello and piano into a fantastical world of harmonics, sul ponticello and flutter tonguing even more wacky and wonderful than that of Schumann's imagination.
JANET BANKS