A young trio boldly launches its recording career with Schumann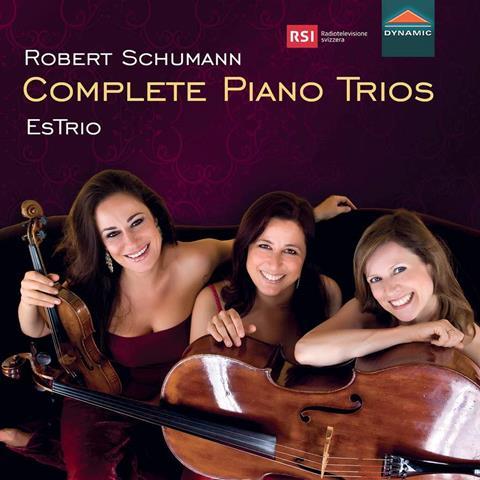 The Strad Issue: December 2023
Description: A young trio boldly launches its recording career with Schumann
Musicians: EsTrio
Works: Schumann: Piano Trios nos.1–3; Fantasiestücke op.88
Catalogue number: DYNAMIC CDS7962 (2 CDs)
The swiftness with which Schumann's piano trios have moved to the core of the repertoire has been nothing short of remarkable. Far more recordings have been made of these works since the millennium than in the whole of their prior history on record. And whereas an established group such as the Beaux Arts Trio waited a whole 16 years before alighting on them, at least three young groups over the past decade and a half have chosen to make their disc debuts with Schumann.
Now here's a fourth, from the EsTrio, an all-female ensemble based in Italy. It's certainly a statement of intent, launching an international recording career with them (a previous disc of Mendelssohn appears not to have achieved wide circulation). And there are many fine moments, much that gives pleasure, without, however, challenging the finest. EsTrio's players are at their best in lyrical music – such as the outer sections of the First Trio's slow movement – or in light-hearted writing, such as is found in the Fantasiestücke. The high spirits of the Second Trio come off better than the agitated First or enigmatic Third.
In the First Trio there's a sense that EsTrio is observant of Schumann's demands but not fully involved in the emotional maelstrom; similarly, it shies away from the tumbling delirium of the ensuing scherzo. Only in the Ziemlich langsam of the Third Trio do the players have the measure of the awed stasis implied by this slow music; the same movement's central convulsion, though, feels more generalised.
The modern standard was set by Leif Ove Andsnes and Christian and Tanja Tetzlaff (EMI/Warner Classics). Close miking at the Auditorio Stelio Molo in Lugano slightly favours Laura Gorna's violin, especially in the Second Trio, revealing occasional hesitations and lapses in intonation. It would have been good to hear more of cellist Cecilia Radic, and pianist Laura Manzini doesn't put a finger wrong.
DAVID THREASHER