A second outing for Rihm's rewarding, demanding music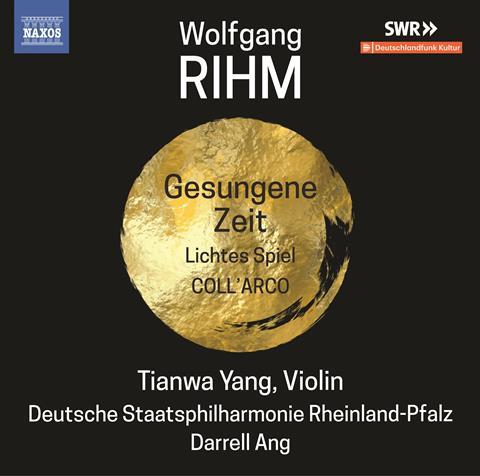 The Strad Issue: July 2019
Description: A second outing for Rihm's rewarding, demanding music
Musicians: Tianwa Yang (violin) Deutsche Staatsphilharmonie Rheinland-Pfalz/Darrell Ang
Works: RIHM Gesungene Zeit; Lichtes Spiel; COLL'ARCO
Catalogue Number: NAXOS 8.573667rev
This second volume in Naxos's survey of Wolfgang Rihm's music for violin and orchestra is a meatier, more demanding affair than the first (reviewed June 2019). But it's just as rewarding in its highly charged, thoroughly persuasive accounts, and in soloist Tianwa Yang's supple, strongly characterised playing.
She's meticulous in following Rihm's sometimes microscopically detailed playing instructions to the letter, but the result is never finicky, serving instead to convey brilliantly the composer's deeply expressive sound worlds and strange, alien lyricism. There's a piercing definition to her playing in 1992's Gesungene Zeit, written for Anne-Sophie Mutter, and she brings a compelling sense of developing narrative to its unpredictable, colourfully scored episodes. With her sensuous swells of sound and fluttering tremolos, Yang sounds like a different player among the luminous harmonies of 2009's Lichtes Spiel – also written for Mutter – even suggesting a sense of playful spontaneity among its forays into Brahmsian Romanticism.
It's in the weighty COLL'ARCO of 2008, however, that Wang most clearly excels, with rich, gutsy, muscular playing in its Berg-like soaring, swooping lines, and a magical conclusion of endless fast figurations dispatched with unshowy eloquence. She receives strong support throughout from the Deutsche Staatsphilharmonie Rheinland-Pfalz, whose players come into their own in the richly imagined orchestral backdrops of COLL'ARCO. Recorded sound is superb, with Wang both embedded within the ensemble and emerging as a spotlit soloist as required.
DAVID KETTLE