Ensemble Diderot and co explore the music of the English capital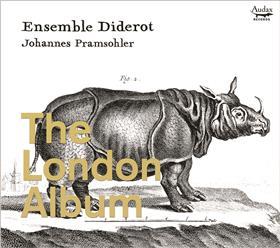 The Strad Issue: October 2019
Description: Ensemble Diderot and co explore the music of the English capital
Musicians: Ensemble Diderot/
Johannes Pramsohler (violin)
Works: The London Album. 
Trio Sonatas by Purcell, King, Draghi, Keller, Purcell, Blow and Diessener
Catalogue Number: AUDAX ADX13718
The lengthy wait for a successor to Ensemble Diderot's 2014 Dresden Album has ended, as with London buses, with two discs appearing simultaneously. Appropriately, London and more specifically the trio sonata before 1680 provide the foci here. (The Ensemble's Paris-centric release was reviewed in the September issue).
Unsurprisingly, three of Purcell's sonatas take centre stage as the culmination of a stylistic development combining the musical language of England with the newest Italian and French elements. Best of the bunch are the Ensemble's exhilarating reading of 'The Great Chaconne' (Z.807) and its account of Sonata no.9 in C minor (Z.798), which revels in the opening 'Sonnata' movement's sinuous imitative chromaticisms and the Adagio's dissonant harmonies. It also comprises a sonorously delivered Largo, a lively Canzona and a rollicking final Allegro. The supporting menu includes John Blow's charming, through-composed Sonata in A major, a four-movement Sonata in G minor by the Anglo–Italian Giovanni Battista Draghi, German Gottfried Keller's often flamboyant Ciaccona, Trio Sonata and Suite in G minor, and his compatriot Gerhard Diessener's Italianate Trio Sonata in G minor, all showcasing the athleticism, idiomatic sensibility and expressive musicianship of violinists Johannes Pramsholer and Roldán Bernabé.
Regrettably, the balance of the close-miked recording at times seems bass-heavy, particularly in the Draghi Sonata.
ROBIN STOWELL