A striking coupling of familiar and unfamiliar reaps rewards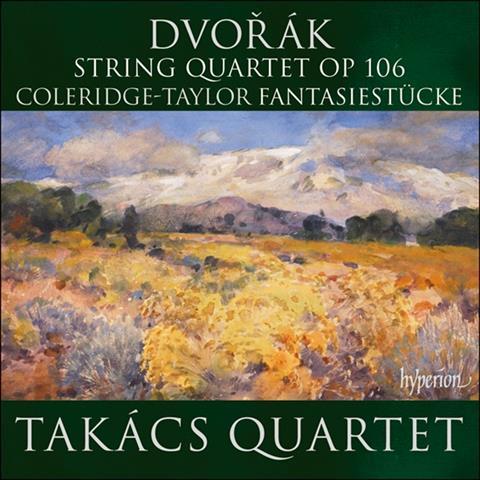 The Strad Issue: September 2023
Description: A striking coupling of familiar and unfamiliar reaps rewards
Musicians: Takács Quartet
Works: Coleridge-Taylor: Five Fantasiestücke op.5. Dvořák: String Quartet no.13 in G major op.106; Andante appassionato
Catalogue number: HYPERION CDA68413
It's gratifying to see the name of Samuel Coleridge-Taylor on a high-profile release such as this. The two main works here come from the same year – 1895 – when Dvořák had recently returned from his directorship of the National Conservatory in New York and Coleridge-Taylor was a student at London's Royal College of Music.
The title of Coleridge-Taylor's Five Fantasiestücke may evoke Schumann, but the language is perhaps closer to Brahms, as might be expected of a pupil of Stanford. Coleridge-Taylor's idol Dvořák is in the mix too, whether in the mournful song of the Prelude or the tripping central Humoresque. There's also a Serenade that alternates sections in 5/4 and 6/4, an elegant Minuet and an irresistible closing Dance. Coleridge-Taylor entered the RCM as a violinist and his handling of string textures is innate, his harmonic imagination strikingly original. This isn't the work's first recording – that was made by Catalyst Quartet on Azica – but the skill and affection of the Takács make this recommendable on any terms.
Not that the Dvořák comes as any disappointment, for the Takács is steeped in his music. This is an ensemble of individuals, with the silvery violin of Edward Dusinberre singing over the rich-voiced inner parts provided by Harumi Rhodes and the quartet's newest member, Richard O'Neill, all underpinned by the self-effacing but insistent presence of András Fejér – the only remaining member of the original line-up. Its corporate sound glows in the generous acoustic of Monmouth's Wyastone Concert Hall. To close, an Andante appassionato that was originally intended as the slow movement of the A minor Quartet op.12: it's a characteristically Dvořákian outpouring of song that rounds off the programme rather beautifully.
DAVID THREASHER