Tenure lasting 43 years comes to an end as Harumi Rhodes prepares to take second violin chair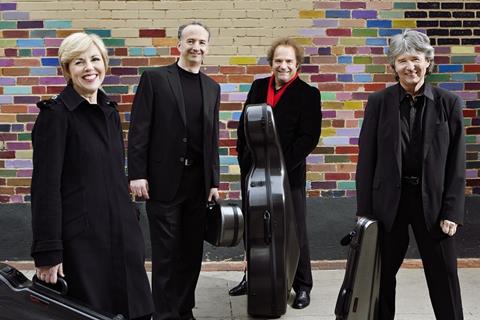 Károly Schranz, who has been the Takács Quartet's second violinist since it was founded in 1975, has decided to step down. American violinist Harumi Rhodes will be taking his place from May 2018, joining Edward Dusinberre, first violin, Geraldine Walther, viola, and the last remaining founding member András Fejér on cello.
Rhodes is currently assistant professor of violin at the University of Colorado Boulder, where the Takács Quartet has been resident since 1986. She has performed with the quartet previously at the Ravinia Festival and for Austin Chamber Music, as well as with members of the group in other chamber music configurations.
'We are thrilled that Harumi has accepted our invitation to join the quartet,' the quartet said in a statement. 'She is a wonderfully versatile violinist and chamber musician, and we greatly look forward to working with her.'
Dusinberre, who joined the quartet in 1993 replacing the eponymous Gábor Takács-Nagy, lead tributes to his outgoing colleague, saying: 'Individually, I have learned a huge amount from Károly and will always be profoundly grateful for the support he gave me after I joined the quartet.' Schranz plans to continue an active career as a chamber musician and teacher.
Rhodes commented: 'Immersing myself in a life of string quartet playing is a dream come true.
'I have been a fan of the Takács Quartet for as long as I can remember. It is with great excitement that I join Ed, Geri, and András in taking the quartet's vision into the future.'
Watch: The Takács Quartet in 1981 (Haydn op.76 no.1)