A young violinist makes her mark in a crowded arena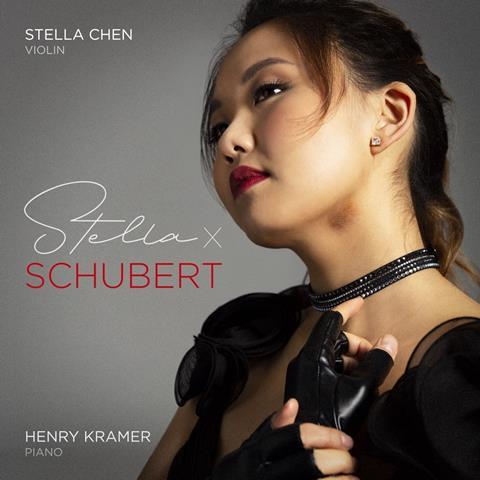 The Strad Issue: May 2023
Description: A young violinist makes her mark in a crowded arena
Musicians: Stella Chen (violin) Henry Kramer (piano)
Works: Schubert: Fantasie in C major D934; Rondo brillant in B minor D895; 'Sei mir gegrüsst' D471 (transcr. Chen); 'Ständchen' D957 no.4 (transcr. Elman)
Catalogue number: PLATOON (download only) PLT17190
Schubert's C major Fantasie was Stella Chen's perhaps surprising choice of repertoire for the recital round of the 2019 Queen Elisabeth Competition. It's a gamble that obviously paid off, for the American violinist took first prize and followed it up with a string of other awards – and, in addition, found time to write her PhD on the work.
Such strong identification with the Fantasie reveals itself in the intelligence and instinctiveness that so palpably underpin her performance. The countless challenges of Schubert's un-violinistic writing are conquered, both here and in the slightly earlier B minor Rondo brillant, and a close microphone placing makes the listener aware of how she surmounts the obstacles Schubert throws in her path. The richness of her sound doesn't preclude a pleasing rasp when she digs in as her part grows knottier, but there's no sense of sliding or stretching intonation in some of those thorny figurations that dance deliriously across the strings. A word, too, for the highly characterised pianism of Henry Kramer.
Completing the programme, it's refreshing to have two song transcriptions. Chen's own arrangement of 'Sei mir gegrüsst', which forms the basis for the Fantasie's variations, shows just how Schubert adapted it to make it suitable for such a purpose, while in Mischa Elman's transcription of 'Ständchen' from Schwanengesang, Chen does a fine impersonation of a violinist from a bygone age. Some may baulk at a playing-time of only a little over 46 minutes but in an era of streaming that becomes less of an issue. The focus and charisma of Chen's performances anyway erase all such concerns.
DAVID THREASHER