This year's Queen Elisabeth Competition in Belgium was devoted to the violin, and showcased a set of distinct and accomplished performances by the twelve finalists, as Tim Homfray reports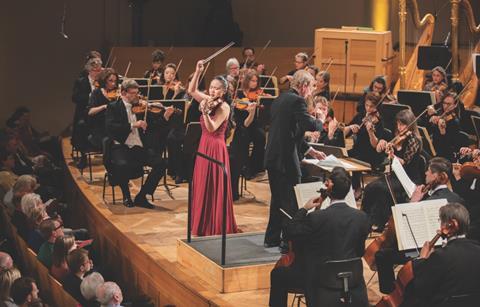 First prizewinner Stella Chen © Bruno Vessiez
Brussels has many things to offer: a wonderful, maze-like city centre full of beer, chocolate and restaurants, and wonderful architecture. And, of course, culture.
In terms of art, Magritte is everywhere, flying on the wallpaper and gracing innumerable souvenirs. In terms of music, one of the annual highlights is the Queen Elisabeth Competition.
This goes through a four-year cycle of piano, cello, voice and, this year, the violin. Out of 172 fiddle players who sent in preliminary auditions on video, 71 were chosen. Some dropped out, so 63 appeared to take part in the competition, with TV and radio broadcasting every note.
I came for the third and final round, by which time there were twelve contestants left. This took place in the Palais des Beaux-Arts, an elegantly named building in the midst of an arts complex, now known rather prosaically as Bozar.
At the back of the first gallery in the concert hall is a royal box, which was in constant use. The contest, known originally as the Eugène Ysaÿe competition, was founded by Queen Elisabeth in 1935 and is still supported by the royal dynasty.
Two members of the family appeared each night, but not the same two, greeted with lots of clapping and a performance of the national anthem. (I hope they enjoyed the music: one younger royal was excused for the second half, but perhaps there was homework.)
Each night there were two finalists, who had to play a concerto and, first, a new work by the Finnish composer Kimmo Hakola. Fidl is a substantial piece, 20 minutes long, which worries away at chromatic scales, arpeggios and skyrocketing figures, with a frantic string-hopping semiquaver cadenza. Several of the finalists struggled with it, particularly the passages in harmonics – one player ended up on the wrong side of the bridge. Near the end the soloists have to stamp, and so does the orchestra, which the players enjoyed.
The Belgian National Orchestra, under Hugh Wolff, was on duty throughout. The first finalist was Luke Hsu. There were a few ragged moments in Fidl, before he set off on Tchaikovsky's Concerto with energy and muscularity, and a degree of rhythmic freedom. The second movement (without a mute – boo) had more passion than is usual in this gentle Adagio, and he galloped along in the finale, with explosive accents.
Sylvia Huang, the only Belgian finalist, had a lightness of touch in Fidl. Her performance of Dvořák's Concerto had an easy flow and rhythmic sensibility, with a clear, sweet tone high on the E string. She dug into the string when needed, but it was her elfin lightness and charm that stayed in the mind.
The following evening Stephen Kim impressed a lot of us, including the composer, by playing Fidl from memory. He showed theatrical flair both here and in Brahms's Concerto, where he was at times flamboyant and at others introspective; time seemed suspended in the high-floating lyricism after the cadenza. The last movement was rhythmically dynamic, with moments of expressive beauty.
Ji Won Song seemed to relish the drama of Fidl, judging by her smile as she dug into the grim rhetoric of the cadenza. In Sibelius's Concerto she caressed the lyrical passages and produced the edge of a snarl in some of her raw G string playing. She pressed forward, and her sound in full flow was thrilling.
There was confident playing from Seiji Okamoto in Fidl, but rough edges too. His intonation faltered under pressure, as it did in Sibelius's Concerto, where he kept losing proper contact with the string and producing little scrunches. Still he rattled off the finale with panache.
Ioana Cristina Goicea brought a different perspective to Fidl, with gritty, punchy playing. It was a suitable curtain raiser for the intensity of Shostakovich's First Concerto. There was a forceful personality at work here, with the long melodic paragraphs sensitively shaped. Her tone had a kind of tensile strength which held even at the softest of dynamics. The cadenza opened with deceptive simplicity and built with superb technical control to emotional vehemence.
Júlia Pusker performed Fidl with aplomb, though with a little trouble over the harmonics. In Beethoven's Concerto she produced nicely sculpted melodic lines, with gutsy playing in the passage work, rhythmic spring and warmth of sound. The long melody in the slow movement had a magical simplicity.
After this, in the interval, we journalists were invited to meet Queen Mathilde. A gracious lady in a peach dress, she asked who I thought was best so far. I had to buy a tie especially. Memo to self: always pack a tie.
Later, Yukiko Uno played Fidl with conviction, before performing Brahms's Concerto with expressive phrasing and narrative subtlety.
There were only two nights to go, when Stella Chen appeared. After a performance of Fidl which was not quite immaculate, she gave a powerful account of Tchaikovsky's Concerto, building the long lines of the first movement with increasing dynamism. In the second movement she showed exquisite expression and fluency, and the last movement was brilliant in every way: crisp, fierce and soulful.
After her came Timothy Chooi, who seemed in a different league from the others. He showed an impressive command of Fidl, performed with flair and personality. In Tchaikovsky's Concerto he produced dynamism allied to technical brilliance, with a wonderful depth of sound, particularly on the G string. He could also be light and capricious. After the expressive nuances of the Canzonetta, the last movement was high-octane virtuosity, a thrilling performance which earned him a standing ovation.
Shannon Lee followed a slightly scrappy Fidl with the last Tchaikovsky of the competition. She is a superb player, combining energy with lightness of touch, but she didn't transcend its challenges to make the work her own in the way that Chooi had done.
Finally there came Eva Rabchevska, who played Fidl with style and panache. She showed the musical and technical abilities to handle both the great structure and infinite detail of Brahms's Concerto.
Well, who to pick out of these twelve? I thought Chooi, who seemed the obvious winner, but no, he came second to Stella Chen, who received €25,000 and a four-year loan of the 1708 'Huggins' Stradivari from the Nippon Music Foundation. Stephen Kim, Shannon Lee, Júlia Pusker and Ioana Cristina Goicea followed as the third to sixth prizewinners.
They should all have great careers ahead of them.