The American violinist receives €25,000, a CD recording, a number of important international performance opportunities and the loan of a Stradivarius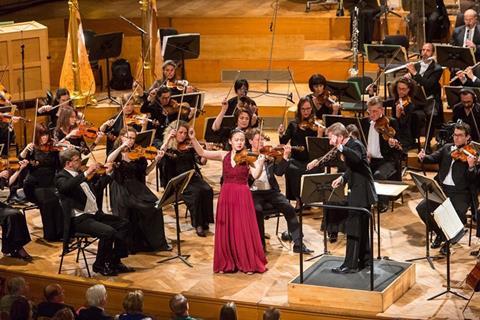 Following a final round on Saturday 25 May, in which candidates performed a concerto of their choice and Finnish composer Kimmo Hakola's newly written Fidl op. 99, accompanied by the Belgian National Orchestra under Hugh Wolff, the Queen Elisabeth Violin Competition has awarded its first prize to Stella Chen.
The 26-year-old American violinist receives €25,000, a CD recording, a number of important international performance opportunities – plus the 4 year use of the 1708 Huggins Stradivarius violin, on loan from the Nippon Music Foundation.
Second prize, worth €20,000 was awarded to 25-year-old Canadian violinist Timothy Chooi, while third prize of €17,000, went to 23-year-old Stephen Kim from the United States. The €12,500 fourth prize,€10,000 fifth prize and €8,000 sixth prize went to 26-year-old Shannon Lee from Canada/United States, 27-year-old Júlia Pusker from Hungary and 26-year-old Ioana Cristina Goicea from Romania/Germany respectively.
The remaining six unranked finalists - Luke Hsu, Sylvia Huang, Seiji Okamoto, Eva Rabchevska, Ji Won Song and Yukiko Uno - each received €4,000.
The audience prize of (€2,500) went to Sylvia Huang, the only Belgian violinist in the Brussels-based competition.
Previously a pupil of Itzhak Perlman and Miriam Fried, Stella Chen now studies at The Juilliard School with Li Lin and Catherine Cho and at the New England Conservatory with Donald Weilerstein. She has won prizes at the Yehudi Menuhin Competition and the Tibor Varga Competition and was awarded the Robert Levin Prize. Chen has also studied psychology at Harvard University.
Sitting on the 2019 jury were Pierre Amoyal, Martin Beaver, Corina Belcea, Patrice Fontanarosa, Pamela Frank, Koichiro Harada, Dong-Suk Kang, Victor Kissine, Jaime Laredo, Natalia Prischepenko, Vadim Repin and Arabella Steinbacher.
The inaugural QEMC in 1937 was devoted to the violin and dedicated to Eugène Ysaÿe, who had recently died. David Oistrakh, then aged 28, was the competition's first winner. The first piano competition took place the year afterwards. Singing was added in 1988, and cello in 2017. There is also a composition competition, which is run outside of the four-year cycle.
The 2015 Queen Elisabeth Competition was won by violinist Ji Young Lim.
Read: Queen Elisabeth Competition 2019 announced finalists.