Top musicians show fine teamwork in Bach sonatas and transcriptions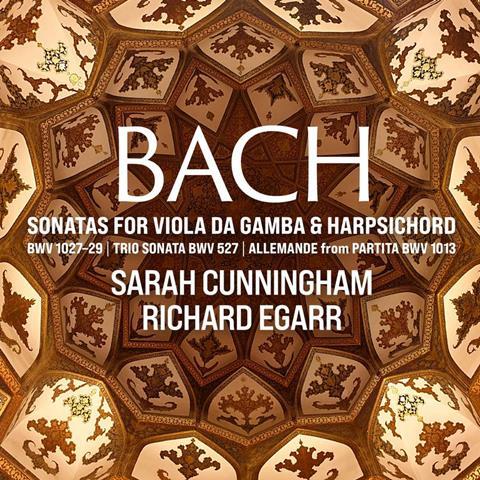 The Strad Issue: February 2022
Description: Top musicians show fine teamwork in Bach sonatas and transcriptions
Musicians: Sarah Cunningham (viola da gamba) Richard Egarr (harpsichord)
Works: Bach:Three Sonatas for viola da gamba and harpsichord BWV1027-9, Organ Trio Sonata no.3 in D minor BWV527 (arr. Cunningham), Allemande from Flute Partita in A minor BWV1013 (arr. Cunningham)
Catalogue number: AVIE AV2491
Sarah Cunningham and Richard Egarr demonstrate their excellent rapport in these well-balanced interpretations, captured in 2017. Cunningham coaxes a lyrical flexibility from her gamba and is equal to most of their programme's technical challenges, particularly in the concertante outer movements of BWV1029 and the concluding Allegro of BWV1028.
Her expressive realisation of the opening Adagio of BWV1028 is also pleasing, but she introduces some uncomfortable left-hand shifts in the poignant Adagio of BWV1029. Egarr matches Cunningham's energy and poise and shapes phrases with due attention to the Baroque practice of stressing the 'good' notes, notably in the lyrical opening Adagio of BWV1027. These performers' conversational interplay in the fast movements is consistently buoyant and animated, the finale of BWV1028 especially showcasing their virtuosity and rhythmic drive. Tempos are par for the course.
Arrangements of other works by Bach complete the menu. Cunningham's enterprising version of BWV527 complements the three gamba sonatas well, its easy-going opening Andante highlighting the interaction of the two protagonists and its final Vivace displaying their technical agility and control; but her account of her arrangement of the opening Allemande of BWV1013 seems sluggish and ponderous. The recorded sound reproduces the texture and resonances of both instruments in a sympathetic church acoustic.
ROBIN STOWELL