Bach is the star in this ambitious concept album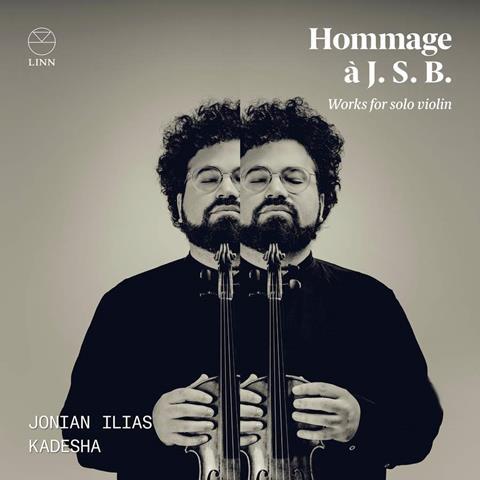 The Strad Issue: September 2022
Description; Bach is the star in this ambitious concept album
Musicians: Jonian Ilias Kadesha (violin)
Works: Bach: Partita no.2 BWV1004. Auerbach: Lonely Suite; works by Biber, Kurtág, Schnittke and Winkelman
Catalogue number: LINN CKD676
As one third of the Gaspard Trio, this Greek–Albanian violinist has recorded Lera Auerbach's Postscriptum within a 'Russian Roots' programme for Chandos, but there's no Slavic edge to his playing of her Lonely Suite here. Indeed, whether written c.1676 (Biber's Passacaglia) or in 2002 (Helena Winkelman's Ciaccona), the works on this concept album are unified by Jonian Ilias Kadesha's pure tone, hair-trigger dynamics and uncanny powers of musical story-telling. The engineering enhances haunted-house vibes of stillness but never deadness.
The functional booklet essay rather leaves the concept itself to our imagination, however. There's nothing especially Bachian about the thrice-iterated Perpetuum mobile by Kurtág or Winkelman's funky modern-Baroque swing unless it be a common heritage in Italianate (specifically Corellian) virtuosity. In Kadesha's hands, the inexorable momentum of Schnittke's Fugue recalls Bach less than the balletic poise of Biber.
Where the album does live up to its title is in a remarkable account of the D minor Partita. Without the safety net of vibrato, tone this sweet and intonation this true are rare indeed. Eschewing the unadorned phrasing of Ibragimova and tonal extremes of Kopatchinskaja, Kadesha's Bach nevertheless belongs with them in the top tier of distinctively 21st-century responses to Baroque rhetoric. The Chaconne must be among the quickest on record, yet there is no feeling of haste about Kadesha's dramatic leap from the quicksilver patter of the Gigue, or the relaxed heartbeat of his spread chords for the theme. It's all in the dynamics, such as the audacious, almost whispered incantation of the cross-string section.
PETER QUANTRILL