Brave and convincing performances of new music for double bass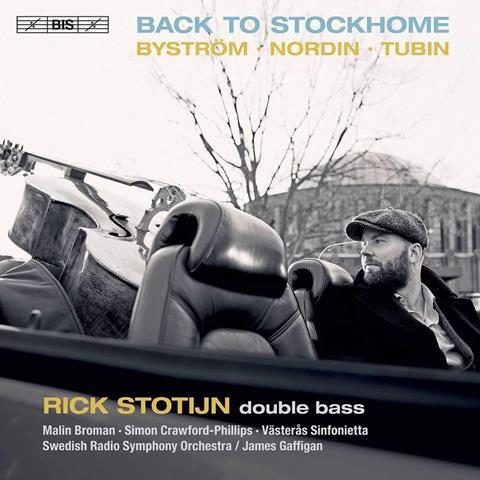 The Strad Issue: October 2021
Description: Brave and convincing performances of new music for double bass
Musicians: Rick Stotijn (double bass) Malin Broman (violin, viola) Simon Crawford-Phillips (piano) Swedish Radio Symphony Orchestra/James Gaffigan, Västerås Sinfonietta/Simon Crawford-Phillips
Works: Music by Byström, Tubin, Nordin and Malmlöf-Forssling
Catalogue number: BIS BIS-2379 (SACD)
Back to Stockhome
Dutch-born bassist Rick Stotijn has long had a second home in Stockholm, where he's principal bass in the Swedish Radio Symphony Orchestra – a fact that provides this new disc with its perhaps rather tenuous theme, while also bringing together some rewarding, provocative music with Swedish connections. All of it serves to highlight Stotijn's remarkably buoyant, vivid playing, shot through with a compelling sense of storytelling, and with effortless technical control that's invariably harnessed for deeply musical ends.
Stotijn is joined by Malin Broman on both violin and viola for the disc's centrepiece, the double concerto Infinite Rooms by Swedish composer Britta Byström. Inspired by the infinity mirrors of Japanese artist Yayoi Kusama, Byström conjures intricate interlocking material for her two soloists that's then expanded ad infinitum across the orchestra, and although the piece feels slightly overlong at seven movements, Stotijn and Broman make beautifully complemented soloists, alert to each other's movements in their wittily intertwining parts. Three of Byström's 20 Walks, originally intended as musical links between her concerto and upcoming repertoire, serve as intriguing moments of reflection.
Estonian composer Eduard Tubin's Bass Concerto is far more gruff and urgent, and draws appropriately passionate, strongly projected playing from Stotijn, who's also superbly lyrical in its rather unsettled slow movement. Most impressive, and most challenging, however, is the luminous Piano Trio (for violin, bass and piano) by Byström's compatriot Jesper Nordin, a chamber arrangement of his double concerto for violin and cello, which subjects a northern Swedish wedding tune to all manner of computer manipulation. It draws arresting playing from Stotijn (especially in a ruminative solo in the middle of the piece that highlights his sonorous lower register), Broman and pianist Simon Crawford-Phillips in music that sometimes seems to tear apart sound itself. Recorded sound is close, clear and warm throughout.
DAVID KETTLE