Two concertos for star soloists couldn't have more committed performances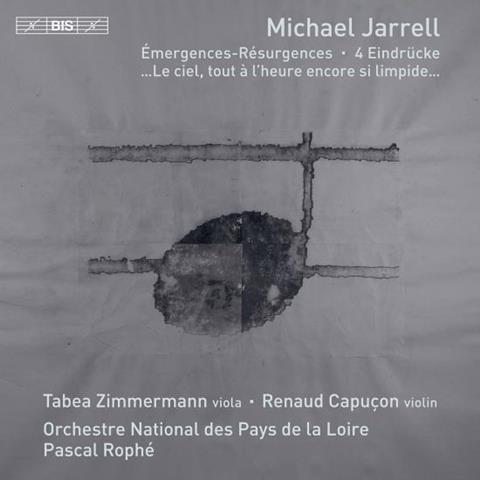 The Strad Issue: June 2021
Description: Two concertos for star soloists couldn't have more committed performances
Musicians: Renaud Capuçon (violin) Tabea Zimmermann (viola) Orchestre national des Pays de la Loire/Pascal Rophé
Works: Jarrell: Émergences-Résurgences; … Le ciel, tout à l'heure encore si limpide, soudain se trouble horriblement…; 4 Eindrücke
Catalogue number: BIS BIS-2482
These two recent string concertos by senior Swiss composer Michael Jarrell are often challenging in their musical language, but deeply expressive all the same, as though Jarrell has channelled the uncompromising aesthetics of the post-war avant-garde into vivid, microscopically detailed, exquisitely crafted storytelling, with compelling results. He explains in the booklet notes that writing a concerto is often about getting to know a particular artist: both concertos here are performed by their dedicatees, and it shows. Tabea Zimmermann plays as though an actor delivering a soliloquy in the viola concerto Émergences-Résurgences, brilliantly athletic in its nervy opening, full of pent-up energy, yet caressingly lyrical in Jarrell's more sculpted melodic sections, and particularly effective in the extensive guitar-like pizzicatos in its slow second section.
Jarrell plays on the chiselled, strongly defined quality of Renaud Capuçon's playing in his Fourth Violin Concerto, 4 Eindrücke, placing him firmly in the spotlight with breathless flurries of notes and obsessively frenetic scrubbings, all building to the barely controlled frenzy of the closing movement. He could hardly hope for more committed, perceptive performances, and both soloists receive brilliantly vivid support from the Orchestre national des Pays de la Loire under Pascal Rophé in Jarrell's inventive, multicoloured orchestration, which is equally on show in the energetic orchestral work …Le ciel, tout à l'heure encore si limpide, soudain se trouble horriblement… which completes the disc.
Recorded sound is clear and authentic, though the soloists are occasionally somewhat submerged in the mix amid Jarrell's teeming orchestral textures.
DAVID KETTLE