Stunning on-the-wing performances from a superb duo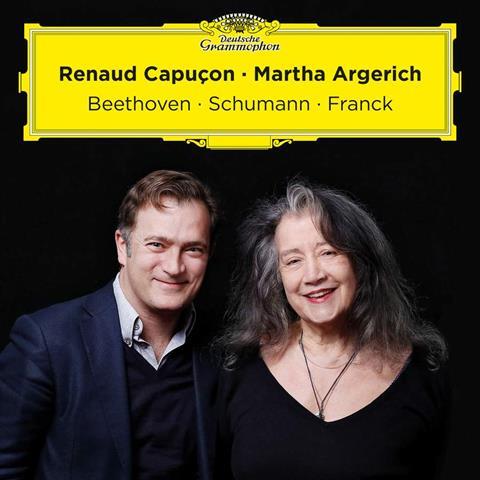 THE STRAD RECOMMENDS
The Strad Issue: March 2023
Description: Stunning on-the-wing performances from a superb duo
Musicians: Renaud Capuçon (violin) Martha Argerich (piano)
Works: Beethoven: Violin Sonata no.9 in A major op.47 'Kreutzer'. Franck: Violin Sonata in A major. Schumann: Violin Sonata no.1 in A minor op.105
Catalogue number: DG 4863533
Recorded live at the Aix-en-Provence Easter Festival last year, this release has 'crowd pleaser' written all over it. In many ways Capuçon and Argerich are the dream team we would expect, their bold individual musical personalities compounding to make formidable musical statements. There are some interpretative surprises all the same. Capuçon's overly rich, suave playing in the Schumann – however seductive – pushes it more into the realm of Richard Strauss. By contrast, in the first movement of Franck's sonata, there's a relaxed, fluid approach to rhythm that arrests the momentum but results in a suspended, quasi twilit atmosphere that arguably creates a sharper contrast to the more fiery second movement.
The stormy urgency in the Presto of the 'Kreutzer' Sonata's first movement offers particular excitement, with both players on blistering form. The theme of the variations movement is especially warm, and the third variation (minore) inspires a searching quality, while the complementary majore variation shines with the kind of sweetness, delicacy and enchantment that can perhaps only arise in a live performance.
The instruments are well captured and balanced, and applause is edited out. The occasional stylistic questions apart, this disc features some very distinguished playing, the Beethoven and Franck pieces especially benefiting from Argerich's uniquely commanding pianism.
EDWARD BHESANIA