Chamber music bookending a composer's career yields some surprises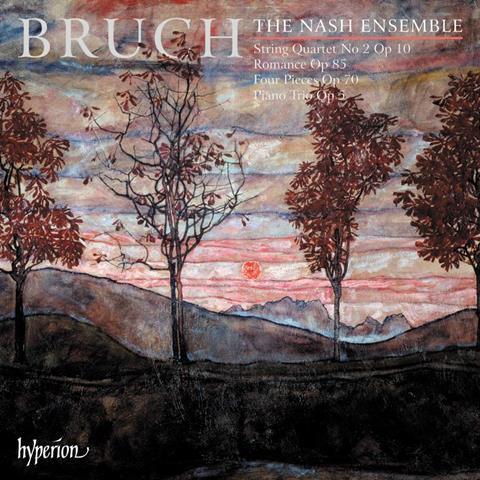 The Strad Issue: October 2021
Description: Chamber music bookending a composer's career yields some surprises
Musicians: Nash Ensemble
Works: Bruch: Piano Trio in C minor op.5; Four Pieces op.70; Romance op.85; String Quartet no.2 in E major op.10
Catalogue number: HYPERION CDA68343
It seems odd that, although so well known for his First Violin Concerto and Scottish Fantasy, Max Bruch might suffer such neglect in the chamber music department. As Tully Potter points out in his informative booklet notes, Bruch's chamber music was concentrated in periods at the beginning and end of his career; and yet the selection on this disc doesn't demonstrate any leap from juvenile to grand master.
Ardent as the playing is in the early Piano Trio – with a spirited momentum in the second movement and energetic vigour in the Presto finale – it's a work that feels earthbound, with neither the charm of Mendelssohn nor the humanity of Brahms (the close, slightly claustrophobic recording perhaps doesn't help). The Four Pieces for cello and piano, though written nearly 40 years later, feel no more fleshed out – admittedly they are character pieces – but they are played with great warmth and variety of registral shading by Adrian Brendel. Likewise the Romance, composed by the septuagenarian Bruch, might appear only air-kissed by inspiration, though Lawrence Power blows in a sense of gentle fantasy.
The surprise is the String Quartet no.2, a concentrated, varied work that best shows off the Nash players' individual skills and collective empathy – and one written by Bruch at the grand old age of 22.
EDWARD BHESANIA