Somewhat dogged playing detracts from a likeable programme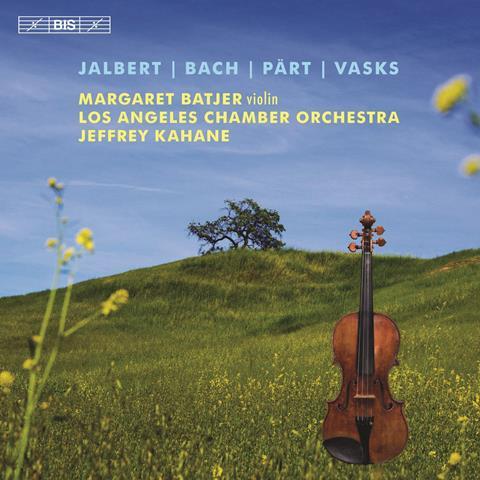 The Strad Issue: November 2019
Description: Somewhat dogged playing detracts from a likeable programme
Musicians: Margaret Batjer (violin) Los Angeles Chamber Orchestra/Jeffrey Kahane
Works: JALBERT Violin Concerto BACH Violin Concerto in A minor BWV1041 PÄRT Fratres VASKS Lonely Angel
Catalogue Number: BIS 2309 (hybrid SACD)
Concertmaster of the Los Angeles Chamber Orchestra since 1998, Margaret Batjer steps out from her usual desk as soloist with her own band in this enterprising collection showcasing her clearly accomplished skills. The 2017 Violin Concerto by US composer Pierre Jalbert (co-commissioned by the LAPO) is the disc's stand-out work, and it's an immediately likeable, engaging piece that blends colourful orchestral effects with a nicely imagined solo line, by turns introspective and brilliantly showy. Batjer delivers an enthusiastic account, but there's a slight unevenness to some of her tremolos and runs that feels at odds with the pinpoint precision of Jalbert's writing, and she's sometimes too reserved to capture the music's evident flamboyance.
Her account of Pärt's Fratres, in the version for violin, string orchestra and percussion, feels similarly effortful at times, as well as rather hurried, as though pushing ever forward to a climax rather than conjuring the composer's sense of timeless ritual. Batjer is in her element among the sentimental melodies of Vasks's Lonely Angel, but between her passages of beguiling beauty, there's other material that feels rather flat, as though she's not always convinced by the music's heart-on-sleeve melancholy.
The Bach A minor Concerto brings a rich, velvety backdrop from the LACO's players, but Batjer's doggedly legato, vibrato-heavy solo line, which lingers over solo phrases, often lacks a sense of rhythmic impetus, despite its bouncing finale. Recorded sound is beautifully detailed and rich, though with copious competition on three of the works included, it's hard to recommend Batjer above more accomplished accounts.
DAVID KETTLE