American violinist Sarah Chang on her 30-year career and taking on more chamber and contemporary projects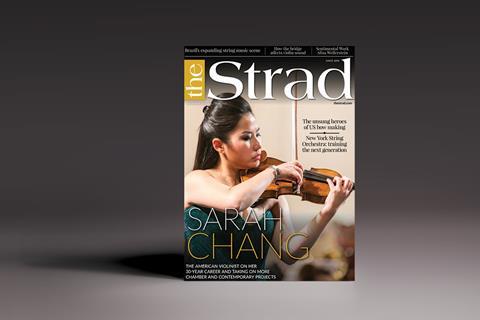 Sarah Chang talks about how her passion for chamber playing, and the collaborative process of premiering a new concerto by Hollywood composer Fil Eisler, are helping her to reassess the central violin canon with which she made her name.
For five decades, the New York String Orchestra Seminar orchestral training programme has given young players professional experience in the company of star soloists. Our Strad correspondent reports from the rehearsal hall ahead of the ensemble's December 2019 edition.
We hear about the lives and achievements of three outstanding American bow makers of the early 20th century, Kovanda, Lohberg and Halvarson, who all trained at William Lewis & Son in Chicago. Meanwhile, the second of a two-part examination of set-up looks at the acoustic properties of bridges from the Baroque era to the present day.
As a new anthology on the music of Brazil is released on Naxos, our Strad writer discovers the variety and vitality of string and orchestral writing from South America's largest nation
In our regular sections:
The issue's Masterclass comes from Nils Monkemeyer, on the first movement of Stamitz's First Viola Concerto; in Technique violinist David Kim focuses on sautillé; British violinist Anthony Marwood offers his Life Lessons; plus in Sentimental Work cellist Alisa Weilerstein shares her passion for Don Giovanni. Our Postcard this month comes from the Banff International String Quartet Competition in Canada.
In Focus spotlights a 1929 violin by Paolo Guadagnini; Antoine Nédélec has a method for uniting arching, channelling and edgework in Trade Secrets; My Space looks inside the Buenos Aires workshop of luthier Lionnel Genovart; and in Making Matters Joseph Campanella Cleary considers the many uses of the humble wedge in stringed instrument making.
We also bring you news of the latest competitions, products and auctions, and comprehensive reviews of concerts, CDs and books.
Plus, in your digital edition:
More from Christian Tetzlaff's 'flashmob' appearance with the Deutsche Symphonie-Orchester Berlin in September
Gaetano Sgarabotto: extra images of the master copyist from the archives
Music of Brazil: even more images of the great composers of Brazilian classical music
My Space: more from the workshop of Argentinian luthier Lionnel Genovart
Reviews: some of the pictorial highlights from this year's BBC Proms, including Sheku Kanneh-Mason, Joshua Bell, Lisa Batiashvili and Leonidas Kavakos
And of course, audio clips from the three CDs graced with the illustrious moniker: 'The Strad Recommends'
ALL WEBLINKS ARE NOW CLICKABLE, INCLUDING THE ADS
The digital magazine and print edition are on sale now, or subscribe to access the entire magazine online here
Do YOU have something to say about the new issue – or about the strings world generally? Send letters to the editor at thestrad@thestrad.com.