Dennis Rooney listens to four short performances from the University of Illinois's Krannert Center on 5, 12, 19 and 26 February 2021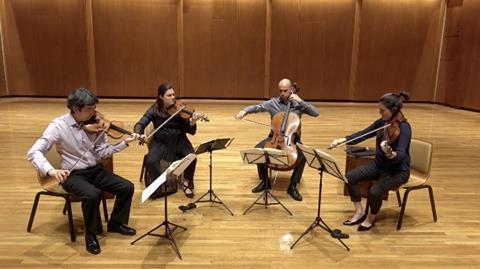 Four short programmes streamed live on the four Fridays in February 2021 featured movements from quartets of Haydn, Beethoven, Schubert and Mendelssohn, as well as three works commissioned by the Jupiter Quartet and two other works of American composers. The performances originated from the Krannert Center at the University of Illinois at Urbana–Champaign, which has been the Jupiters' home base since 2015, where the musicians direct the chamber music programme, teach and perform.
Tonal refinement and precision of ensemble were hallmarks of everything played in the series, entitled Reflection and Renewal. Leader Nelson Lee's suave sound was always comfortable in high tessitura. His colleagues, siblings violin Meg Freivogel and viola Liz Freivogel, and cellist Daniel McDonough (Meg's husband), impressed equally in unisons and octaves, suggesting careful preparation and a unity of ensemble that flows from long acquaintance and shared musical purpose. Not surprising as the Jupiters are nearing their 20th anniversary.
Five movements from quartets of Haydn, Beethoven, Schubert, Mendelssohn and George Walker (1922–2018) were the highlights of the series. The Larghetto espressivo – Allegretto agitato – Allegro finale of Beethoven's 'Serioso', op.95 led off. Taut rhythms and expressive intensity made me want to hear these players in more Beethoven. The Andante con moto from Schubert's 'Death and the Maiden' D810, on the second programme, was succeeded on the third by the finale from Mendelssohn's last quartet, op.80, and the Largo (Cantabile e mesto) from Haydn's op.76 no.5.
The final programme contrasted the Molto allegro e vivace from Mendelssohn's Quartet op.12 with the second movement ('Lyric') from Walker's Quartet no.1 (1946). Of them all, only the Schubert was a slight disappointment, sounding over-inflected and slightly sentimentalised. The three new works had all been previously performed by the Jupiters: Imprimatur (2018), the Quartet no.2 in five linked movements by Kati Agócs (b.1975), and the final two movements of Michi Wiancko's To Unpathed Waters, Undreamed Shores (2020) were pleasing to hear. Excerpts from Ramshackle Songs by Dan Visconti (b.1982) made little impression. 'Incineratorag', the third of Three Classic Rags (1967) by William Bolcom (b.1938), was heard in the composer's own arrangement for strings. It was a pleasant makeweight but lacked the percussive accents of the keyboard original.
DENNIS ROONEY