Tim homfray hears the performance at London's Kings Place on 26 February 2021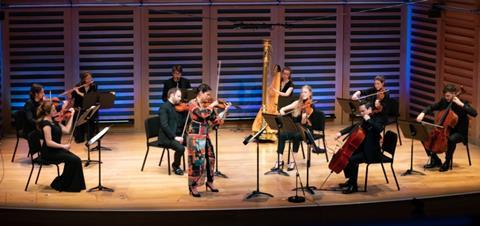 To mark the centenary of Vaughan Williams's The Lark Ascending, the Aurora Orchestra performed it in the first of its new season of concerts at Kings Place. To be more accurate, given the current circumstances, a cut-down Aurora (with seven strings, flute, clarinet and harp) played a cut-down version, specially commissioned from Iain Farrington, with soloist Elena Urioste. And very effective it was, with the harp adding body and a passable imitation of a triangle. This was an intimate, collegiate affair, as much musing as soaring, beautifully played by Urioste. As she disappeared into the stratosphere, for once it was apt that there was no applause.
Violist Ruth Gibson opened the concert with a short new solo work by Thea Musgrave, Light at the End of the Tunnel, simply and affectingly played. In Ravel's Introduction and Allegro harpist Sally Pryce was exquisite, and the strings sultry and languorous. There were more birds in Anna Meredith's Music for Ravens for string quartet, angrily squeaking at each other. Finally came a joyful performance of Mendelssohn's String Octet, which had the best qualities of a chamber group in its textural clarity and of a string ensemble in its thrilling power.
TIM HOMFRAY