Tim Homfray attends the virtual recital from London's Wigmore Hall on 19 April 2021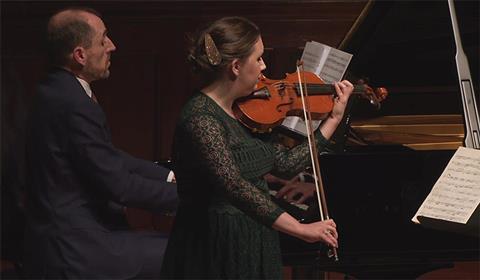 This concert of Russian and French music opened with an extra touch of Mediterranean colour in Stravinsky's Suite italienne. Chloë Hanslip maintained her focused tone through the spiccato demands of the Tarantella, which was expressive as well as rhythmically precise, and the Scherzino. She was seductive in the Serenata, sprightly in the Gavotta, and brought controlled flamboyance to the Finale, with deftly dispatched double-stopping. Lili Boulanger's Nocturne had gentle charm, and her D'un matin de printemps blossomed into rich tones and energetic high spirits. As Messiaen's Theme and Variations became more lively, Hanslip moved into exuberant song, with ecstatic vibrato.
Danny Driver was in empathic attendance throughout. In Prokofiev's F minor Violin Sonata they proved to be a great team. In the darkness of the opening movement Hanslip's sound had anguish and tension as she ascended the G string, and there was something grimly inexorable in the double-stopped lines that followed. In the Allegro brusco second movement Hanslip dug and crunched into the strings, and even the sweeping eroico theme had a fervid intensity that brought little relief. There was beauty in the long coiling lines of the Andante, and ferocity in the asymmetrical rhythms of the finale.
TIM HOMFRAY
Photo courtesy Wigmore Hall