Ahead of a performance at Music at Paxton, the violinist shines a light on works by Kaprálová and Schulhoff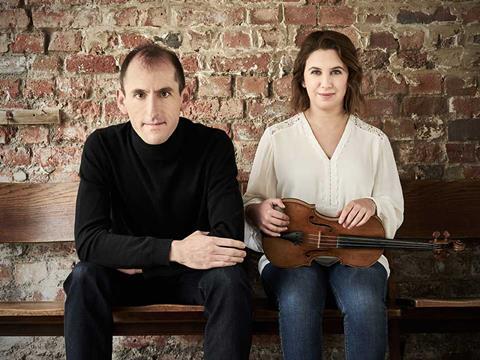 Discover more Featured Stories like this in The Strad Playing Hub
Curating a programme for concerts is always interesting – the desire to create a well balanced concert that invites the audience in and keeps you true to your voice as a performer whilst combining known and less well known works is always an interesting process. So when my duo partner, Danny Driver , and I were asked by Paxton to come up with a programme we were, as always, full of ideas – it's just a question of slimming them down!
We had been hoping to programme a work by Vítězslava Kaprálová for quite a while, and everything seemed to just slot in to place this time for us to be able to include her Elegy for Violin and Piano. She was a hugely interesting woman, born in Brno in 1915, passing away at just 25 in Montpellier near the beginning of the Second World War. She was almost the same age as Lili Boulanger whose sister, Nadia, she had hoped to study with when she lived in Paris. She came from a musical family and appears to have been a very determined character, enrolling herself in the Brno Conservatory at the age of 15 and succeeding in getting into the hugely competitive composition and conducting classes in the Prague Conservatory at the age of 20. I find her works to be lyrical, dramatic yet playful and with an already very clear personality shining through.
The Elegy is the last of three works for Violin and Piano. It is an incredibly beautiful piece that packs so much for both performer and audience into just under four minutes – it takes the listener on a real journey from the start with a plaintive few bars of solo violin (the theme of which is woven throughout) with the piano joining with lilting undertones. A searching, ultimately slightly restless development ensues before we find our way back to the thematic material of the beginning, finally reaching sunshine through the clouds at the end.
I was first introduced to the world of Erwin Schulhoff when I was asked to perform his Duo for Violin and Cello with Jiří Barta about 15 to 20 years ago. I remember being immediately struck by Schulhoff's sound world and wanting to discover more of his music. He was to die from tuberculosis at a prisoner camp in Germany at the age of 48 in 1942 but before that he produced a wide body of works. There is so much to write about him and his several personalities of composition (which includes a period of Dadaist influence), all with a unique voice which was jazzy, sarcastic, witty, and a wayward streak that occasionally completely takes over (just take a look at his catalogue…!) but his second Sonata for Violin and Piano is the focus for this programme.
The Sonata is written in a relatively standard format of four movements – Allegro Impetuoso, Andante, Burlesca: Allegretto and Allegro Risoluto. The first movement immediately commands your attention with a striking three-note rhythm (in fact, each movement starts with the same rhythm in the violin!), with broad leaps in the piano and develops in to a driven movement with a nervous energy that just won't settle, whilst the third movement is a tongue-in-cheek, yet creepy dance, finishing with a ghostly passage in the violin. The fourth movement revisits the very opening of the work but with the rhythms slightly changed and develops into a maelstrom of emotions before going back 'home' to the opening theme.
I love playing and exploring these movements but it is the Andante which has my heart. Opening with bell like tolls in the piano (which continue throughout) it builds to such a heartfelt outpouring which is sustained almost to the very end, never really finding an outlet for the tension which has been built but rather a feeling of inevitability and begrudging acceptance – truly a movement (and Sonata!) of which I never tire.
Violin and piano duo, Chlöe Hanslip and Danny Driver, close this year's Music at Paxton festival on Sunday 30 July at 4pm. Their concert features music by Schulhoff, Vítězslava, Suk, Schubert and Strauss. Tickets available from www.musicatpaxton.co.uk