Bruce Hodges hears a performance of Bach, Paganini and Colereidge-Taylor Perkinson from Atterbury House, NY, on 15 May 2021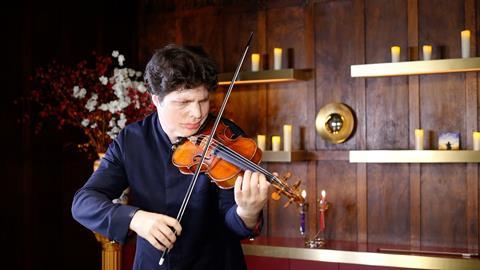 In two short works, Augustin Hadelich adroitly demonstrated that Coleridge-Taylor Perkinson (1932–2004) can hold his own among two giants who also composed for strings. For the three movements of Blue/s Forms (1979), Hadelich offered expertly calibrated double-stopped jazz melismas, buoyed with precisely judged intonation. And in Louisiana Blues Strut from 2002, the violinist continued his idiomatic mood, combining seeming casualness with incendiary virtuosity.
Hadelich finds more substance in Paganini than many of his peers. In the Ninth Caprice, intonation and skittering spiccatos were pillars of the violinist's precision approach. Yes, the fireworks were present, but the explosions seemed the results of careful thought and planning. (Meanwhile, a shout-out to sound engineer Laura de Rover, whose discreet expertise enhanced the entire recital.)
To close came Bach's Second Partita, after Hadelich switched to a Baroque bow. If the Sarabanda was perhaps the most striking – exuding dreamy, mournful nostalgia – the Allemande and the Corrente showed the artist's same precision delivery, and unerring flow of line. Pausing before the Giga, Hadelich seemed to contemplate his bow position carefully (violinists everywhere, take note), before delivering the intricate movement with similar limpid fluidity. And then came the Chaconne, steeped in history, here showing its timelessness. With careful attention to contrast and dynamics, Hadelich grew in intensity to the end, with explosive emotions previously held in check. All served to highlight the final note, given a discreet decrescendo to silence.
BRUCE HODGES