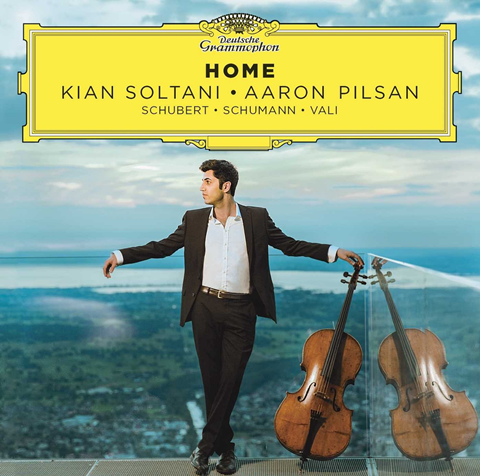 THE STRAD RECOMMENDS
The Strad Issue: June 2018
Description: Brilliant debut from a cello star in the making
Musicians: Kian Soltani (cello), Aaron Pilsan (piano)
Works: SCHUBERT Arpeggione Sonata; Nacht und Träume. SCHUMANN Drei Fantasiestücke; Adagio und Allegro; Du bist wie eine Blume. VALI Persian Folk Songs Set no.16. SOLTANI Persian Fire Dance
Catalogue Number: DG 479 8100
Both artists in this recording hail from the Voralberg region in Austria, and so it seems entirely natural for them to select Schubert, and perhaps to a lesser extent Schumann, as part of their cultural heritage. And it's no coincidence that their interpretations of all the works by these composers are idiomatic and musically intelligent. A pupil of Ivan Monighetti since the age of 12, Kian Soltani possesses flawless technique, and has fully absorbed the musical grammar of Schubert's Arpeggione. In short, the playing is mature and elegant, with masterful support from Aaron Pilsan.
Soltani further justifies his reputation as a star destined for the heights with a gloriously compelling account of Schumann's Fantasiestücke, juxtaposing reflective lyricism in the first piece with exuberant Sturm und Drang in the last. Calm with ensuing passion characterises the Adagio und Allegro, the final section of which propels forwards with electric intensity. An exquisitely sensitive interpretation of the song Du bist wie eine Blume follows, the golden tones of Soltani's 1694 'London' Stradivari, coupled with an artfully well-balanced recording providing the necessary icing on the cake.
The second part of this disc explores Soltani's Persian roots, celebrated through Reza Vali's specially arranged set of Persian folk songs. Soltani justifiably describes Vali as the Iranian Bartók, and the idiom, projected with sensitivity and incredible flexibility, is absolutely under his skin.
JOANNE TALBOT