A beautifully presented and enthralling introduction to a resurgent composer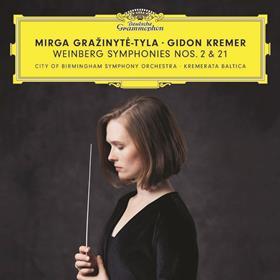 The Strad Issue: October 2019
Description: A beautifully presented and enthralling introduction to a resurgent composer
Musicians: Gidon Kremer (violin) Kremerata Baltica, City of Birmingham Symphony Orchestra/Mirga Gražinytė-Tyla
Works: WEINBERG Symphonies nos.2 & 21 'Kaddish'
Catalogue Number: DG 483 6566 (2 CDs)
This pair of symphonies span almost the full breadth of Mieczysław Weinberg's 50-year composing career. The strings-only, three-movement Second dates from 1946, not long after Weinberg moved to Moscow on the advice of Shostakovich. Grave, haunted and subversive by turns, it vividly illustrates the subtle individuality of his voice – melodically less distinctive than his mentor's, often rather more adventurous in development – and the dry-eyed pathos communicated by a young man who had recently lost his entire family to Nazi persecution.
Finally completed in 1991 after 30 years of work, no.21 takes its sub-title (like Bernstein's Third) from the Jewish hymn of mourning. Sustained over six movements, the mood never lightens nor yields to sentimentality even as it worries away at a fragment from a Chopin ballade. What could be a grim hour's listening becomes an enthralling symphonic journey of reflection, acceptance and redemption thanks to this beautifully prepared and recorded account, uniting the strings of Kremerata Baltica with the full CBSO. Gidon Kremer supplies the cadenzas that punctuate the long opening movement, and Gražinytė-Tyla sings the closing lament in a feat of pure-toned, deadpan multitasking.
Weinberg's reputation has undergone a sea-change in the past decade – there are now several fine recordings of his output for violin and cello, for example – but listeners coming to him afresh could find no more persuasive introduction.
PETER QUANTRILL