Young prize-winning cellist presents a vivid and eloquent recital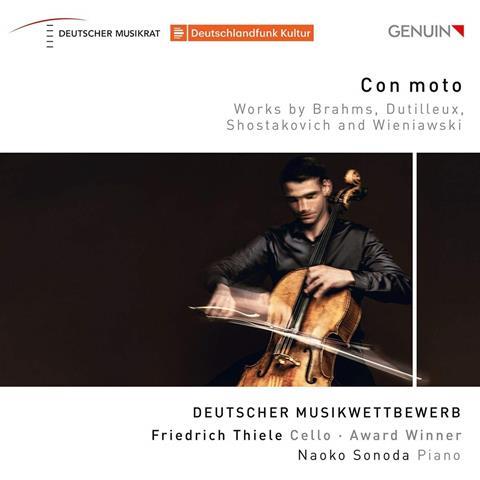 The Strad Issue: December 2020
Description: Young prize-winning cellist presents a vivid and eloquent recital
Musicians: Friedrich Thiele (cello) Naoko Sonoda (piano)
Works: Brahms: Cello Sonata no.2 in F major op.99. Dutilleux: 3 Strophes sur le nom de Sacher. Shostakovich: Cello Sonata in D minor op.40, Wieniawski: Scherzo tarantelle
Catalogue number: GENUIN 10716
German cellist Friedrich Thiele has barely turned 24, but last year he took the second prize (and two others) at the ARD competition in Munich, as well as an award at the Deutscher Musikwettbewerb (German Music Competition). Judging by this release he already has a lot to offer, allying refined readings to sophisticated expression. It's clear he's not out to impress for its own sake, and if this means the temperature could go up a notch in the Allegro passionato of Brahms's F major Sonata, he also captures a bounding turbulence in the first movement and, in the Adagio affettuoso, an ability to shape phrases that open out in ever wider waves.
In Dutilleux's 3 Strophes sur le nom de Sacher, commissioned by Rostropovich for conductor-patron Paul Sacher's 70th birthday, Thiele demonstrates a vivid imagination, detailed ear for timing and sound, and a mastery of the barrage of extended techniques.
There's much to enjoy in Shostakovich's Cello Sonata too, not least a luminous transparency in the first movement; both here and in the Largo, Thiele's eloquent expression is close to breathtaking. Pianist Naoko Sonoda is an excellent match. The disc is very finely recorded, with the piano sounding especially handsome.
EDWARD BHESANIA