Bruce Hodges tunes into the live-sreamed performance from Watson Concert Hall, University of North Carolina School of the Arts, on 22 February 2022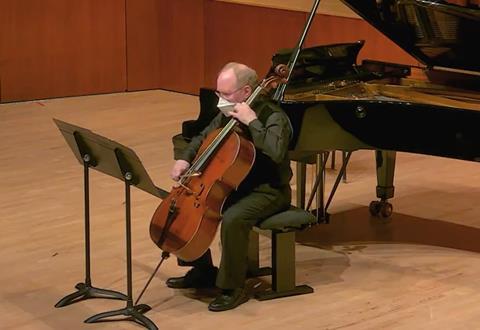 As former principal associate cello of the Metropolitan Opera Orchestra, Sam Magill has spent his career performing the likes of Mozart, Verdi and Wagner. But his curiosity extends far beyond those well-known names. This adventurous recital began with the 1892 Requiem for three cellos and piano by David Popper.
Popper's luscious harmonies take full advantage of a trio of cellists – in this case, a reunion of alumni from the University of North Carolina School of the Arts, with Magill joined by Deborah Davis and Eli Kaynor along with pianist Dmitri Shteinberg. Based on this warm, reverent reading, it should appear in the recital hall more often.
Magill has recorded Franco Alfano's Sonata in G minor (1925–6), and the chance to hear it live was welcome. Alfano is perhaps best known for completing Puccini's Turandot, and the sensuous phrases of this engaging sonata echo that drama. Magill's instrument has gorgeous resonance, especially in some of the work's cavernous lower registers.
After the interval came Orpheus for solo cello by Eugène Bozza, published posthumously in 1993. It opens with a barrage of double-stops, followed by a meditative middle movement sprinkled with left-hand pizzicatos and some treacherous harmonics. The rhapsodic finale thumps with vigour and challenging stretches in the strings' upper reaches, coupled with other special effects.
To close this ambitious programme came John Ireland's 1923 G minor Sonata for cello and piano. As with the best collaborations – between Magill's haunting strains and Shteinberg's alert pianism – the whole seemed greater than the sum of its parts.
BRUCE HODGES