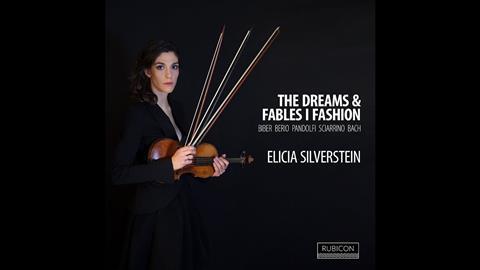 THE STRAD RECOMMENDS
The Strad Issue: March 2019
Description: Baroque and avant-garde strike sparks in an inventive programme
Musicians: Elicia Silverstein (violin) Mauro Valli (cello) Michele Pasotti (theorbo)
Works: BIBER Mystery Sonatas: X The Crucifixion & XVI Passacaglia SCIARRINO Capriccio no.2 (Sei capricci) PANDOLFI Sonata no.2 'La Cesta' BERIO Sequenza VIII BACH Chaconne in D minor BWV1004
Catalogue Number: RUBICON RCD 1031
If I had any doubts about resonances between the music of the Italian avant-garde and that of the Baroque, Elicia Silverstein dispels them all with her CD The Dreams & Fables I Fashion. The New York-born violinist points up their shared aesthetic by placing works by Sciarrino and Berio alongside those of Biber, Pandolfi and Bach, to great effect.
Silverstein sets the bar high in two of Biber's Mystery Sonatas: a deeply rich and tender reading of his 'The Crucifixion', with sensitive support by cellist Mauro Valli and Michele Pasotti on theorbo; and a lithe and carefully coloured Passacaglia.
Gut strings add warmth and delicious nuances to her tone, and recorded sound throughout is crisp and mellow.
Sciarrino's Capriccio no.2 feels like the Baroque is just a breath away from its delicately circling progressions and whispered trills. These flutterings are echoed in the opening bars of Pandolfi's Sonata no.2 'La Cesta'.
Silverstein chooses to employ only the cello as continuo, and in context the sparseness is thoroughly effective.
The debt owed to 17th-century musical sensibilities by Berio's dancing Sequenza VIII – a tribute to the Chaconne from Bach's D minor Partita – is laid bare by Silverstein's thoughtful approach. An elegant and finely-judged reading of the Chaconne itself makes the perfect ending to a wonderfully inventive disc.
CATHERINE NELSON