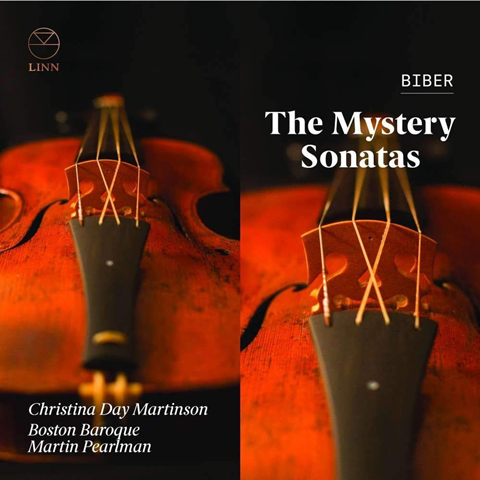 The Strad Issue: July 2018
Description: Capturing the glory, joy and sorrow of these mysterious works
Musicians: Christina Day Martinson (Baroque violin), Boston Baroque/Martin Pearlman
Works: BIBER Mystery Sonatas
Catalogue Number: LINN CKD501 (2 CDs)
Following Biber's catalytic anniversaries of 1994 and 2004, these sonatas have become part of the Baroque canon, not least for their experimental scordatura, innovative technical demands and imaginative expressive content. Using multiple violins (and reserving one solely for no.11's extreme tuning), Christina Day Martinson makes light of the virtuosity of this deeply profound music, left-hand pizzicatos, up- and down-bow staccato, ricochet and other bowings forming part of her impressive technical armoury.
She also revels in conveying the illustrative nature of the score, projecting the trumpet and drum imitations in no.12 with stirring energy and depicting the five 'sorrowful mysteries' (nos.6–10), involving the biblical events from 'The Agony in the Garden' through to 'The Crucifixion' and eventual earthquake, with striking dramatic impact.
She shapes phrases gracefully, as at the beginning of no.9, and gives a compelling sense of architecture to individual movements, particularly the extended variations of Sonatas nos.4 and 14 and the final, free-flowing Passacaglia. She adds extempore ornamentation tastefully throughout and uses dynamic contrasts and subtleties of articulation and timing to enhance the theatricality of her accounts. However, her playing of the required violin tuning before each sonata intrudes upon the smooth progression of the biblical narrative.
Day Martinson gains responsive support from a small continuo group, the instrumental colours of which add to the overall dramatic effect, particularly in no.6. And Michael Leopold's theorbo/guitar contribution serves both to illustrate the biblical scenario and to drive the music forward, as in the Seventh Sonata. The recorded sound and balance are exemplary.
ROBIN STOWELL