Two master violinists offer opposing views of Berg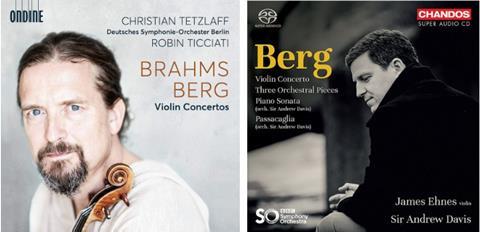 The Strad Issue: November 2022
Description: Two master violinists offer opposing views of Berg
CD1:
Musicians: Christian Tetzlaff (violin) Deutsches Symphonie-Orchester Berlin/Robin Ticciati
Works: Berg: Violin Concerto. Brahms: Violin Concerto
Catalogue number: ONDINE ODE 1410-2
CD2:
Musicians: James Ehnes (violin) BBC Symphony Orchestra/Andrew Davis
Works: Berg: Violin Concerto; Piano Sonata op.1 (orch. Davis); Passacaglia (orch. Davis); Three Orchestral Pieces op.6
Catalogue number: CHANDOS CHSA 5270
Here are two new recordings of Berg's Violin Concerto, by James Ehnes and Christian Tetzlaff, both worthy of attention. Ehnes's CD comes with more Berg in the form of Andrew Davis's idiomatic arrangements of the Piano Sonata and Passacaglia, and the Three Orchestral Pieces, all receiving translucent and probing performances. Tetzlaff pairs his Berg with Brahms.
Ehnes is the more Olympian of the two. He steadily warms his tone through the opening statement and continues as if musing, with freedom of phrasing and a touch of rubato. The orchestra under Davis is a close partner. Ehnes is always primarily melodic, however many notes and accents he has to play at once. The second movement has the necessary vehemence, but here, too, whether hammering out the triple-stopped rhythmic motif pesante as directed, or weaving together the three- and four-part writing of the later tranquillo passage, he maintains poise and tonal beauty. The final pages are timeless and ethereal. This is an expansive reading, always ready to stop and smell the flowers along the way, but never losing sight of its sure narrative line. The orchestral playing is exceptional, and the recorded sound beautifully clear.
In the booklet note to his release, Christian Tetzlaff declares the concerto 'exclusively concerns extreme states of the human soul', and he talks through its workings in great detail. He is considerably brisker than Ehnes and comes in nearly two minutes shorter. The opening is purposeful and urgent, and the later Allegretto is capricious and dynamically fluid: he and his colleagues pay close attention to Berg's hairpins, rendering them dramatic, emphatic and imbued with nervous energy. The Ländler offers a rare moment of repose. Tetzlaff sounds frantic in the opening of the second movement and the multiple-stopped theme is hard-bitten – even the tranquillo passages are not exactly tranquil, though the final section has a sublime beauty and the recording is excellent, placing Tetzlaff to the fore.
These are very different readings of Berg's concerto, equally fine in their own ways, with Ehnes other-worldly and Tetzlaff emotionally vivid.
Tetzlaff's performance of the Brahms Concerto is brisk, and his interpretation at times feels very much of the moment, as if tomorrow he might play it differently. The first movement's second subject is deliciously languid, but always moving onwards, and he develops increasing excitement and momentum in the build-up to the great tutti. He launches into the central section of the second movement in a burst of vibrato-rich passion, and drives through the finale with fierce joy.
TIM HOMFRAY