Beethoven's Violin Concerto has been a mainstay of the Canadian violinist's repertoire since his teenage years, but it retains its ability to inspire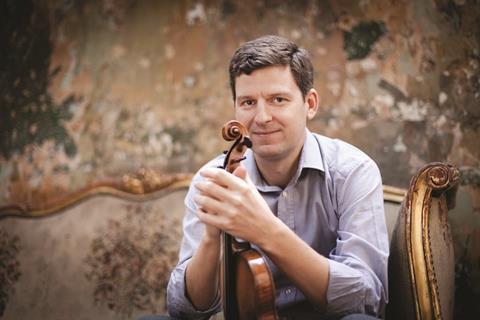 This interview is from the November 2018 issue of The Strad
I've known the Beethoven Violin Concerto for as long as I can remember. My parents had several recordings that I listened to, but I was about seven when I first heard it in concert. Dmitry Sitkovetsky came to play with the Winnipeg Symphony in my home town of Brandon, Manitoba, and although I already knew it was a beautiful piece, that day it came alive for me.
Two moments in particular stood out: the soloist's entrance in the first movement, which drew everyone together into a suddenly intimate experience (and during the orchestra tutti I'd been thinking, 'I don't understand – is he going to play?'). Secondly, the orchestral entrance at the end of the first movement cadenza was so magical and beautiful, it really captured my imagination.
It's an incredibly uplifting and optimistic piece of music – one that makes you feel good about mankind. I wasn't tempted to practise the concerto immediately – I'd only been playing for a couple of years anyway!
I first started to study it when I was 15. I was very fortunate that the conductor Victor Feldbrill took an interest in my playing around that time, and gave me the chance to perform the Bruch, then the Brahms and then the Beethoven on stage in Hamilton, Ontario.
The Beethoven Violin Concerto is the perfect piece for you to examine and listen to the persuasiveness of your own playing.
It was so lucky for me to be able to give that first performance before it became a kind of Mount Everest challenge in my career; I've spoken to players since, who've said that the Beethoven was put on such a pedestal for them that they kept putting off their first performances, whereas I've always thought, if you want something, you have to start at it straight away.
The other thing is that once you've given that first performance and got it out of the way, I think presenters are more likely to ask you for it. I really benefited from giving so many first performances at that young age.
I don't think I felt the Beethoven was particularly hard to learn technically, but the piece requires great refinement, consistency, and complete and unbroken concentration, and for that reason always remains a challenge.
The piece pushes you always to play a little bit better, every time. So much can be learnt from the experience of playing it; on every occasion, you hopefully know the general ideas you want to express, but the journey you make to get there will be different.
It's a piece I try not to perform too many times in a row; I can stay at the same level of inspiration for perhaps two or three consecutive weeks of performances, but not more.
The Beethoven Concerto is a perfect opportunity for one to take a step back and listen to what you're doing. It's such a refined piece, it's perfect for you to examine and listen to the persuasiveness of your own playing. You can ask yourself: does it sound the way I want it to sound? Is it beautiful? Does each phrase go in the direction I want it to go?
This is why it's not a piece you should ever be scared of – it can teach you so much about your own playing, which is the best way that I think a student can approach it.
INTERVIEW BY CHRISTIAN LLOYD
Read: Beethoven Violin Concerto: The Beethoven Letters
Read: Masterclass: Beethoven Spring Sonata