Dennis Rooney visits Fort Lauderdale's Broward Center for the Performing Arts for the concert on 5 March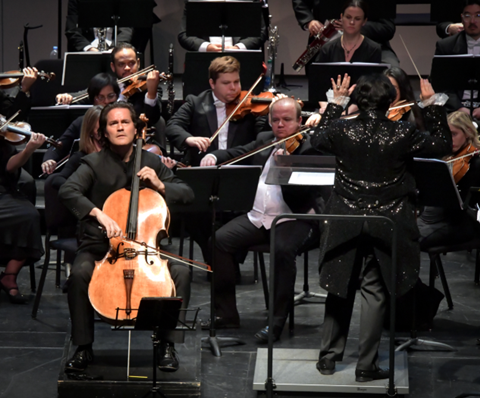 Zuill Bailey played the premiere of the Cello Concerto by Ellen Taaffe Zwilich, one of two new works heard on the third programme of the South Florida Symphony Orchestra's 22nd season, both dedicated to Sebrina María Alfonso, its founder and music director. The concerto's three linked movements suggested a meditation on varied musical gestures from the American vernacular. The blues hovered over the work allusively, but the character of the material, ranging from introspective to aggressive, generated multifaceted meanings that were compelling yet evanescent. A bustling motto introduced each successive section. Technical challenges for the soloist are plentiful but display is not emphasised. Only in the final movement did a cadenza-like episode emerge. Bailey played it sympathetically, with nice dynamics and attractive colours.
Zwilich's Concerto shared the first half of the programme with the other premiere, Sunset by John D. Gottsch (b.1950). Styled as a symphonic poem in seven connected movements, it attempts to bring to musical life some of the past and future of Key West. But an unsophisticated rhythmic structure, lack of balancing lower sonorities against the pervasive brightness of the scoring, and unmemorable melodic materials did not produce a convincing whole.
DENNIS ROONEY