A brand-new cello concerto from a Pulitzer prize-winner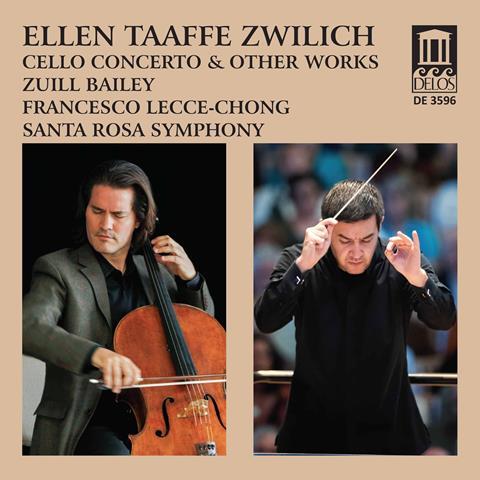 The Strad Issue: December 2022
Description: A brand-new cello concerto from a Pulitzer prize-winner
Musicians: Zuill Bailey (cello) Joseph Edelberg (violin) Elizabeth Dorman (piano) Santa Rosa Symphony Orchestra/Francesco Lecce-Chong
Works: Ellen Taaffe Zwilich: Cello Concerto; Peanuts Gallery; Romance for violin; Prologue and Variations for string orchestra
Catalogue number: DELOS DE3596
A cello concerto by Ellen Taaffe Zwilich (b.1939) was always going to be big news. Hitherto, the renowned American composer has written a Double Concerto for violin and cello and a Cello Symphony featuring the whole cello section, but no solo work for cello and orchestra.
The Cello Concerto's premiere took place in March 2020, just before the covid lockdown; now its dedicatee, Zuill Bailey, commits it to disc for the first time. His formidable technique and profound involvement with the music lend extra power to this sassy, jazzy work in which Zwilich's hallmark propulsive energy in passages of incisively bowed syncopated semiquavers, alternates with moments of profound calm. The orchestration is original and very effective, with the solo cello – placed forward within the recording – dialoguing with different instruments, and sounding particularly effective when playing in its uppermost reaches, above high violins, at the start of the third movement.
Zwilich is also represented here by two works from her middle years which made a more profound impression on me than the concerto, which by comparison felt only skin deep. The tightly worked Prologue and Variations (1983) shows a particular affinity for the string-orchestra medium, and the Romance, for the composer's own instrument, is beautifully characterised by concertmaster Joseph Edelberg. Zwilich's popular Peanuts Gallery for piano and orchestra features a different character from Schulz's cartoon strip in each movement, with 'Snoopy Does the Samba' particularly fun.
JANET BANKS