Tim Homfray gives his impressions on the concert at London's Wigmore Hall on 20 November 2019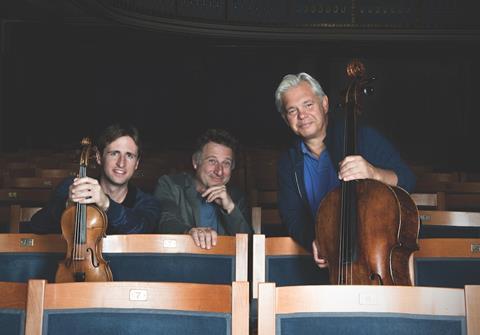 The Vienna Piano Trio appeared at this concert in its new line-up. Well, not that new really. Pianist Stefan Mendl, who founded the group in 1988, is still there. With him were violinist David McCarroll, who joined in 2015, and cellist Clemens Hagen, who joined in 2018. They showed their mettle separately and together in an all-Brahms programme of two sonatas and a trio. In the E minor Cello Sonata op.38, Hagen was heroic in full flow, but could play with captivating stillness. The Allegretto quasi menuetto was charming, light and apparently naive, before the dynamic final Allegro – crisp, powerful and full of song.
McCarroll was brisk and purposeful in the Violin Sonata in G major op.78. There were some bumpy position changes in the first movement, but it had a satisfying sweep. The central Adagio had cumulative grandeur, with rich double-stopping of the theme, and there was delicacy and feeling in the final Allegro molto moderato.
After the interval they joined together for the first version of the B major First Piano Trio op.8. Their playing was big and lush, but could turn on an instant to white-toned bleakness with little or no vibrato. After the jaunty Scherzo, with its strange pizzicato ending, and the wide-ranging characters of the Adagio non troppo, the Finale had power and passion, with sections that were strange and unsettling.