Leah Hollingsworth attends New York's Alice Tully Hall on 13 November 2022 for a performance of Pärt, Prokofiev, Mozart and Corigliano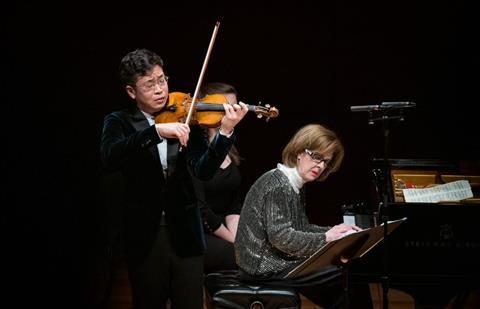 Chamber Music Society of Lincoln Center
Paul Huang (violin) Anne-Marie McDermott (piano)
Alice Tully Hall 13 November 2022
Violinist Paul Huang opened his recital with pianist Anne-Marie McDermott with unbelievably controlled playing in Arvo Pärt's Spiegel im Spiegel, a characteristic that proved to be a theme of the entire programme. His impressive bow control and minimal vibrato led to expansive, timeless phrases and it seemed as if the audience held its breath for the entire ten minutes, so pristine and mesmerising was the atmosphere the duo created.
They effectively began Prokofiev's First Sonata for violin and piano attacca, the last notes of the Pärt bleeding into the opening of the Prokofiev and drawing parallels in the bell-like tones that connected the two distinct tonalities. McDermott's beautiful and profound playing supported Huang's controlled power and nimble passagework as he effortlessly made his way around the instrument. Elegance and furious playing balanced each other in the Allegro brusco and the intensity and control from both musicians in the Andante was captivating. The exuberant energy of the final movement and Huang's virtuosic playing brought the audience to a cheering standing ovation at the interval – something I've rarely seen.
Both artists brought a joyful, easy elegance to Mozart's F major Sonata K376, and McDermott's poise was delightful. Huang's bow control created phrases of beautiful simplicity in the second movement, and his dazzling spiccato brought a smile in the third. John Corigliano's 1963 Sonata concluded the programme and, even in the wildest moments, Huang's control still reigned supreme, performing with a sense of ease and grace. The end of the Andantino was exquisite and Huang's incredible precision in the flurry of notes in the energetic Allegro brought the audience once again to its feet.
LEAH HOLLINGSWORTH