Leah Hollingsworth hears the Huang Duo perform at Washington Irving High School, on 22 February 2020, as part of the 'People's Symphony Concerts' series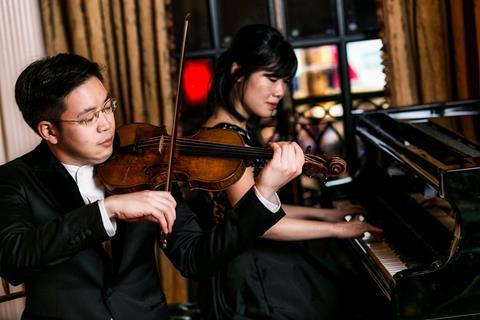 Violinist Paul Huang, a recipient of a 2015 Avery Fisher Career Grant and a 2017 Lincoln Center Award for Emerging Artists, gave a stellar performance in the beautiful auditorium of Washington Irving High School. Mendelssohn's F major Violin Sonata opened the programme, and Huang immediately demonstrated his amazing bow control and ability to use vibrato to colour sound in varied ways.
The first movement was joyful and quite lovely, the Adagio was sensitive, and the Assai vivace sparkling, bubbly and utterly precise. Brahms's G major Violin Sonata boasted a breathtaking opening that blossomed into phrases filled with optimism and warmth. After a passionate development, the theme's return was utterly magical: poignant and deliberately played. Pianist Helen Huang played impressively throughout the night, but her opening to the Adagio in the Brahms was masterful. Paul Huang pulled impossibly long phrases from the violin, again showing off impressive bow control and sound production. The double-stop section was ravishing in its beauty.
Ysaÿe's 'Ballade' (op.27 no.3) for solo violin followed the interval, and Huang's intonation and overall execution were perfect, making for a captivating performance as he masterfully balanced delicacy with passion. His true virtuosity shone in Saint-Saëns's D minor Violin Sonata op.75. The Allegro agitato was dramatic and turbulent but also had some of the most delicate playing of the evening, and impeccable harmony between the piano and violin. The transition to the Adagio was stunning. The remainder of the Sonata demonstrated fabulous duo playing between the instruments and masterful up-bow spiccato, while the programme ended with a spectacular, virtuosic flair. The Jamaican Rumba made for a fun encore.
LEAH HOLLINGSWORTH