Leah Hollingsworth listens to the concert at New York's Weill Recital Hall, Carnegie Hall, on 4 November 2022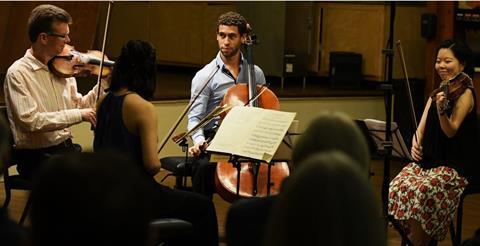 A handful of accomplished young musicians joined by select faculty presented a satisfying and diverse programme at Carnegie Hall as part of the Musicians from Marlboro 2022–23 tour.
The arresting beginning of Respighi's Il tramonto immediately caught the ear, led by violinist Abi Fayette, and a beautiful interplay between the strings and soprano followed. From delicacy to passion, the string quartet achieved remarkable character changes that supported the powerful singing by Lauren Pearl. Brahms's demanding B flat major Quartet followed and, after a vibrant beginning by Scott St John and Kei Tojo, the sotto voce playing from cellist Tony Rymer and St John was simply breathtaking. First violinist Anna Lee played with extreme musicality and expressiveness – every trill or triplet had something to say. Occasionally this could be distracting, but overall she was a joy to hear. Tojo's viola solos in the third movement were imbued with both whimsy and depth of sound. The group captured well the myriad of characters in the work: its joy, gravity, introspection and warmth.
After the interval a piece by Rene Orth called You Shattered My Deafness (2013) was presented quite convincingly by the strings and with remarkable control and colour from the soprano. Mendelssohn's evergreen Octet concluded the concert, with vibrant playing and collective enthusiasm. While St John's playing was occasionally overshadowed by the rest of the ensemble, his sound was warm and he led the group brilliantly. The Andante was not too slow and the effervescent Scherzo bubbled along with great energy. The last movement formed an exuberant finale to a concert of inspiring young musicians.
LEAH HOLLINGSWORTH