Leah Hollingsworth attends the performance at Bowdoin's Studzinski Recital Hall on 22 July 2022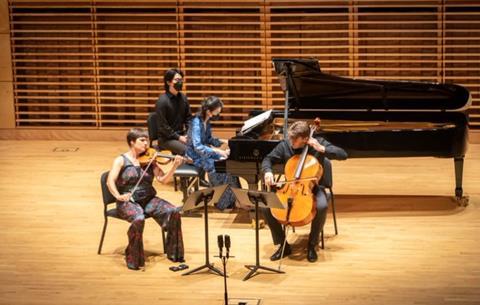 Three faculty members of the Bowdoin Music Festival brought elegance, passion and stunning music making to the students of the festival this month – and to an even larger public than normal, thanks to a livestream of the performance. The dark opening of Rebecca Clarke's Piano Trio (1921) was beautifully executed and gave way to playing of tremendous warmth and depth in the second theme. Edward Arron's masterful cello playing captivated the ear and Pei-Shan Lee approached the piano part with finesse and beauty, complementing well the power of violinist Meg Freivogel. The latter's muted opening of the slow movement was very fine and the musical interplay between her and Arron in this Andante was magnificent. The Allegro vigoroso was played with precision and impressive energy.
Next came two short pieces by Augusta Read Thomas: Capricci – written as a wedding gift for friends and inspired by hummingbirds – was performed well by students Nicolas Rodriguez (flute) and JuHyun Lee (clarinet). Next, faculty members Denise Djokic, cello, and Tao Lin, piano, brought Thomas's Cantos for Slava to life, a piece composed using only pizzicato.
Brahms's glorious Sextet no.2 finished the programme, with the faculty ensemble expertly led by violinist Ian Swensen, the richness of textures never overpowering the often meandering melodic lines. The mysterious Scherzo had a few intonation issues in the unison lines but the Presto giocoso was despatched with fantastic articulation. The final movement opened with a lovely warmth from Swensen and a notable first cello solo by Djokic, setting the seal on a refined performance.
LEAH HOLLINGSWORTH
Photo: Niles Singer/Bowdoin International Music Festival