The 28-year-old US violinist won the gold medal, a cash prize of $75,000 and future concert and recording engagements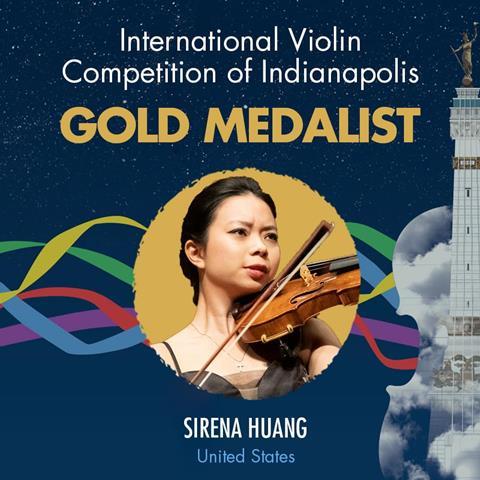 Read more news articles here
The finals of the 11th Quadrennial International Violin Competition of Indianapolis (IVCI) was held on 24 September 2022. 28-year-old US violinist Sirena Huang was awarded the gold medal first prize, a $75,000 cash prize, a Carnegie Hall recital debut at Stern Auditorium, a recording contract, plus website development and maintenance until the next quadrennial
Julian Rhee (US, 22) received the silver medal and $30,000, while Minami Yoshida (Japan, 24) took home the bronze medal and $15,000.
Claire Wells (US, 21) was named fourth place laureate, receiving $10,000, Soobeen Lee (South Korea, 21) fifth place laureate, receiving $8,000, and Joshua Brown (US, 22) took $6,000 as sixth place laureate.
Huang is the recipient of numerous accolades and awards, including first prize at the Elmar Oliveira International Violin Competition, winner of the New York Concert Artist Worldwide Debut Audition, Gold Medalist of the 6th International Tchaikovsky Competition for Young Musicians, top prize winner at the Singapore International Violin Competition and the Shanghai Isaac Stern International Violin Competition.
A graduate of the Juilliard School and Yale University, where she studied with Stephen Clapp, Sylvia Rosenberg, Itzhak Perlman and Hyo Kang, she has performed with ensembles including the New York Philharmonic, the Cleveland Orchestra, and the Shanghai Symphony Orchestra.
The participants were whittled down from 39 during the course of the competition, which began on 9 September, by jury chair Jaime Laredo, Noah Bendix-Balgley, Ivan Chan (1990 Bronze Medalist), Jinjoo Cho (2014 Gold Medalist), Yuzuko Horigome, Dong-Suk Kang, Cho-Liang Lin, Mihaela Martin (1982 Gold Medalist) and Liviu Prunaru (1998 Silver Medalist).
The IVCI was founded in 1982 by Thomas J. Beczkiewicz and Joseph Gingold, with Jaime Laredo leading the competition since 1994. One of the competition's most notable prizes is the loan of the 1683 'ex-Gingold' Stradivari violin, which, along with other instruments from the IVCI collection, will be available for the laureates to use until the next competition in 2026.