Bruce Hodges hears the performance of Mendelssohn, Webern and Skoryk at the Perelman Theater in Philadelphia's Kimmel Center on 17 October 2022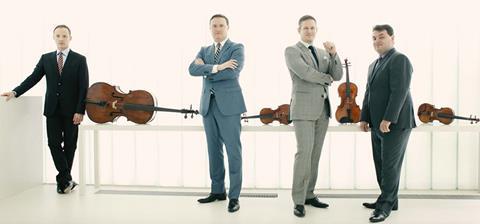 The second movement of Mendelssohn's String Quartet in E minor op.44 no.2 is peppered with tiny sizzling tremolos, which in this reading by the Jerusalem Quartet seemed apt embodiments of the group's energy level. The rest of the score – even the Andante that followed – was imbued with similar passion. Though the ticklish finale might have seemed initially daringly fast, by the time the musicians reached the end, well, perhaps it wasn't fast enough, especially given the technical expertise on display. Some in the audience were moved to stand, and many in the large audience were vocal in their approval.
Webern's single-movement Langsamer Satz made a luxurious contrast, with the foursome revealing the work's sensual arc. But despite the idyll, you could sense that the ensemble was eager to rev up the intensity once again, which it duly did in Tchaikovsky's String Quartet in D major, done with Mozartian vigour and panache. The Andante emerged as the evening's prayer, as hushed as could be wished for, but surrounded by veritable fountains of colour in the outer movements. In the finale's closing sequences, the penultimate, deceptively quiet bars were beautifully timed – hesitant and languorous – leading to the unbridled romp of the final moments.
As an encore, the group offered Melody by the Ukrainian composer Myroslav Skoryk (1938–2020), as a sober tribute to the birthplace of the quartet's two violinists, and an acknowledgement of the sorrowful daily news as the war lingers on.
BRUCE HODGES
Photo: Felix Broede