Carlos María Solare travels to Dresden to hear the Kulturpalast concert on 18 May 2019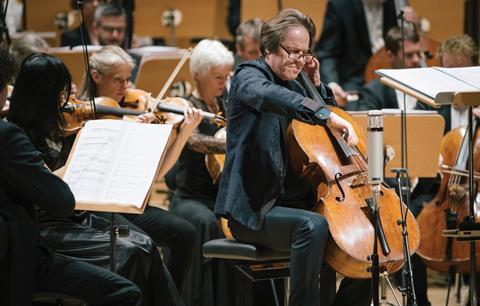 A proverbial citizen of the world, the Dresden-born cellist Jan Vogler lives alternately in the city of his birth and in New York, and has a Chinese wife (violinist Mira Wang). To celebrate this constellation of circumstances, he commissioned composers hailing from those parts of the world to write one movement of a cello concerto each, thus bringing together the three cultures that inform his life.
New Yorker Nico Muhly called his opening movement Cello Cycles, this title alluding to a series of recurring chords that form the colourfully orchestrated ground over which a busy solo part evolves. Sven Helbig hails from Dresden but his Aria is redolent of the soulful musings of Piazzolla. Zhou Long – Beijing-born but currently based in Kansas City – took his inspiration from the Tang dynasty poet Du Fu for the concluding, scherzo-like movement, which he called Tipsy Poet.
Performing on the 1707 'Fau, Castelbarco' Stradivari, Vogler brought forth an impressively inclusive range of colours throughout the 30-minute concerto, which he has tentatively baptised Three Continents. Vogler inflected Zhou's idiosyncratic combinations of pizzicato and glissando with multifarious nuances, while harmonics – as in the finale's pentatonic motto – rang out most clearly. Both outer movements include extended cadenza passages (accompanied in the first one) that Vogler dispatched with the greatest aplomb. However, for all his technical prowess, what impressed most was the expressiveness he brought to Helbig's heart-on-sleeve Aria, adorning its low-lying main motif with a warm vibrato and full, resounding chords. Conversely, the cello positively seemed to shriek during a shattering climax in the same movement which evoked the music of Giya Kancheli in its prominent use of bells and percussion.
Vogler was backed to the hilt by the WDR Symphony Orchestra. The musicians shone in the very different sound worlds of the three composers – Muhly wrote exposed solos for the second desk players of both violin groups that were splendidly negotiated. The concert began with Field Guide by Bay Area composer Gabriella Smith, an attractive piece that has the strings indulging in all kinds of effects to replicate the sounds of nature. After the interval, Beethoven's 'Eroica' Symphony was given a sprightly paced, classically proportioned reading.
Photo: Oliver Killig