Bruce Hodges attends the performance at New York's Carnegie Hall on 5 April 2022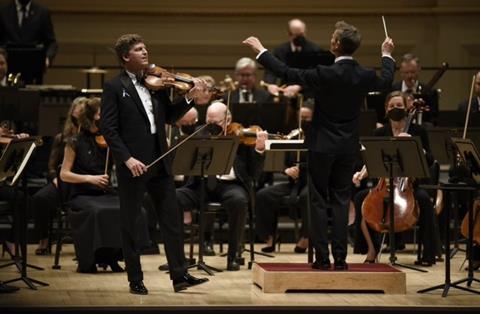 Wearing a blue and yellow lapel ribbon in support of Ukraine, James Ehnes made a virtually ideal interpreter of Korngold's cinematically infused Violin Concerto, a work that draws on four of the composer's film scores. The violinist's collaborators, Alexander Shelley and Canada's National Arts Centre Orchestra (making its first Carnegie Hall appearance in more than 30 years), brought enthusiasm and precision to the orchestral role. But it was Canadian-born Ehnes who was the star, soaring through the composer's effusive clouds with pristine technique.
The first movement glistened, with its combination of the violinist's luscious tone and the ensemble's luxurious upholstery. Near the end of the second movement, a lovely muted section gave reminders of Korngold's movie roots, including a violin melody from Anthony Adverse, which won him an Oscar. In the finale, with quotations from The Prince and the Pauper, Ehnes underlined the rugged dance rhythms, combining sweetness and fine articulation.
Ehnes starred in the encore, too: We Do Exist, which Ukrainian composer Yuri Shevchenko arranged for violin and string orchestra, based on the Ukrainian national anthem. In his introduction, Shelley reported that the composer died a few days prior to this concert, in a basement, due to pneumonia – a backdrop of overwhelming sadness.
The remainder of the evening featured works by Shostakovich and the Canadian composer Nicole Lizée, as well as the US premiere of Philip Glass's latest symphony; it showed the orchestra's strings at their most versatile, and the conductor at his most elegant.
BRUCE HODGES
Photo: Dominick Mastrangelo