Tim Homfray hears a live-streamed performance from London's Wigmore Hall on 14 December 2020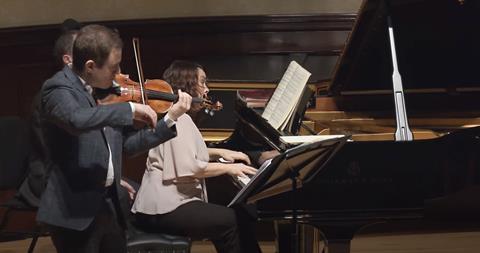 There was a live audience at this concert, that strange luxury of present times, to whom Jack Liebeck and Katya Apekisheva revealed a gripping musical story in Schumann's A minor Sonata op.105. It was a tale that moved quickly from quiet unease to passion, fluent, urgent and restless, expressed in great singing arcs. The second-movement Allegretto had the charm and expression of a salon piece, interspersed with good-humoured sparkle in the neat spiccato episodes. In the finale – with a lot more spiccato – Liebeck was clean, clear and almost playful.
Schumann in A minor was followed by Mozart in A major, his K526 Sonata. Liebeck shaped Mozart's lines with eloquent plasticity formed from constant subtle gradations of dynamics and variation of vibrato, matched by Apekisheva's expressive fluency. The Andante was steady and sombre, with wonderful hushed playing. There was a stillness to the movement, a period of reverie before the gaiety of the finale, light-footed and animated.
The musicians then turned to lighter things. They performed Kreisler's Caprice viennois with a sweetness and warmth which were welcome on this cold winter's day, like musical Glühwein, and followed it with his Syncopation, punchy and suave. Liebeck dashed off Kreisler's arrangement of Falla's Danse Espagnole with virtuoso panache, and finished with his Miniature Viennese March, a farewell bon-bon.
TIM HOMFRAY