Tim Homfray hears the performance of Haydn and Beethoven at London's Wigmore Hall on 20 November 2022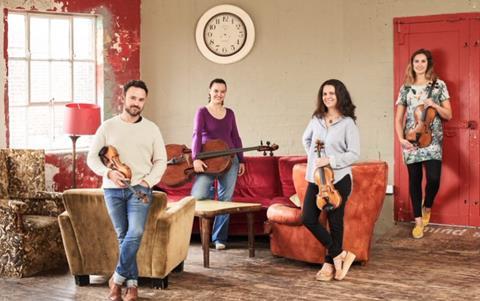 The Elias Quartet began its Sunday coffee concert with Haydn's F sharp minor Quartet op.50 no.4. After the declamatory unison opening leader Sara Bitlloch played with a small voice, almost vibrato-free, before the players moved into more hearty territory, with some neat dovetailing along the way. The second-movement Andante had easy grace, with lissom playing to follow from Bitlloch and great contrasts of character. There was beautiful, mysterious playing in the third-movement trio and the Presto finale was full of glee, bar the sudden outburst of severity before the twinkling close.
Whether by planning or happenstance the Sunday morning Wigmore Hall programmes have been working their way through Beethoven's op.59 'Rasumovsky' quartets, and this time it was the turn of the second one in E minor. The Elias players imbued the first-movement Allegro spiritoso with pulsing, shifting dynamics, offering featherlight dialogue between the first violin and cellist Marie Bitlloch at the opening of the development and some rich, almost symphonic sonorities later on. The Molto adagio was an impressive exhibition of sustained lyricism and dynamic subtlety, and the third-movement Allegretto was full of energy, its Russian theme punchy, emphatic and open-hearted. Their finale was a careering dance.
TIM HOMFRAY